Monday Morning Commute: Don't ask me, I don't know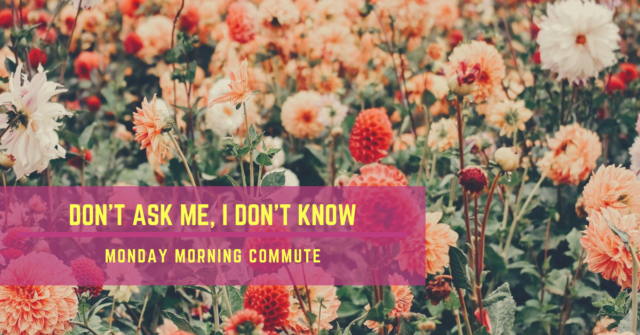 Hey friends! Drinkwater here. Caffeine Powered here. CaffPow here. Whatever appellation you want to hang on me, go for it. I simply don't fucking care. Weird week here for me, friends. My wife's grandmother passed away last week, and we're in that liminal state. Between the passing and the service. Between the act and the acceptance. If you're reading this babe, I love you! You've got this. And so everything feels in stasis until at least the service on Saturday. But as we all know, it'll be a much longer process than that.
Meanwhile, I am in the doldrums of the semester. Tired. I'm tired. The students are tired. The staff are tired. We all out here, tired. So, apologies if nothing is truly sizzling my tits right now. I present to you Monday Morning Commute, none the less. And, I suppose that's where you come in.
Indeed, hit up the comments section.
Let me know what you're enjoying!
Furthermore, let me know what you're anticipating this week!
I'll go first, per the rules of this dance.
—-
completed: nier automata.
what an odd, heartbreaking experience.
now what?!
—-
listening: these various tunes.
running the full spectrum of genres.
—-
watching: ap bio.
answering the question,
what would happen if dennis reynolds
taught high school? it's surprisingly funny.
—-
stressing: boston playoffs!
the bruins and the celtics
are both still in it, baby!
—-
contemplating: avengers: endgame
i need, need, need to see this movie again.
—-
enduring: game of thrones
this show is such a slog for me.
but, like everyone else, i want
to see how it ends.
—-
streaming: when are we going to?
it's been shitty luck for streaming, my friends.
i know, i know. bateman moved. this weekend,
i gotta go to said service. please come back when
we come back!
—-
That's it for me, comrades. What's tickling you this week?