Monday Morning Commute: Say My Name!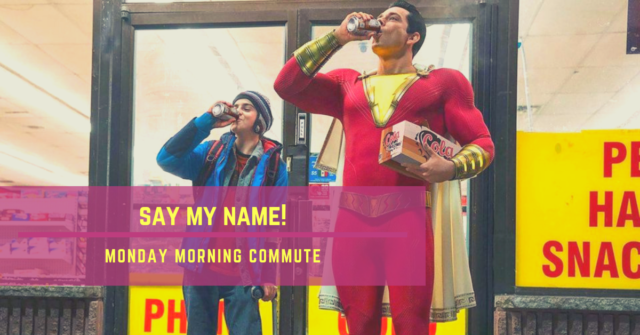 Oh! I bet you thought you'd seen the last of me, huh? Oh, you didn't? Just assumed I was in some sort of depressive, hermetic state? And that I'd emerge eventually, temporarily recharged? Well, fuck. You know me! Anyways, hey! Great to be here. Great to see you. Your teeth look wonderful, and your genitals look plump. Fantastic, fantastic! Anyways, I won't belabor you much longer with this viciously verbose opening. Instead, I'll pivot to the purpose of this here post, Monday Morning Commute!
To tell you what I'm enjoying lately. Be it active enjoyments, or portents of fun things on the horizon this week.
Then, per usual, I hope you'll share your own warm-and-fuzzies in the comments section.
Shazam!
—-
looking forward to: Shazam!
My word, I'll take Superhero Big any day.
—-
contemplating: Fear & Loathing In Las Vegas!
HST doing HST satire. I've read so much of his other stuff, that I can appreciate his own self-satire, while wishing others looked beyond it.
—-
looking forward to: Pet Semetary!
—-
playing: The Division 2, Dead Cells, and Nier: Automata!
Really running the gamut here. Friends-based loot-and-shoot. Brutal retro throwback that breaks me every week on stream. And, oddly existential and gorgeous Japanese action RPG.
—-
television viewing: Broad City (fare thee well), Barry (welcome back!), and True Detective and Daredevil's third seasons (goddamn returns to form)!
There's too much television.
—-
looking forward to: G1 Supercard 2019
Fucking fuck, Wrestlemania! I'm stoked for this Saturday's ROH/NJPW event at Madison Square Garden. An ungodly number of belts on the line, an ungodly collection of talent.
—-
fearing: Avengers: Endgame!
Tickets go on sale tomorrow. I'm straight-up not fucking prepared for this movie, my dudes. Gonna break me.
—-
That's it for me, folks! What are you currently enjoying? Sweating? Anticipating?