Sony announces PlayStation 4 livestream event March 25 with new games, new trailers, other miscellaneous hotness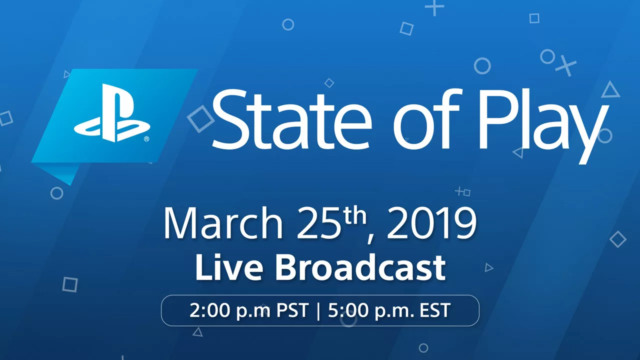 Sony is skipping E3 this year! But, they're livestreaming an event this Monday, March 25. What's gonna be featured? Glad you fucking asked! New trailers, new games, all sorts of happy horseshit. I, for one, am stoked.
Polygon:
Sony joins Nintendo and Microsoft in the "holding your own news event" department with the announcement of State of Play, a live broadcast that will be held next week. Tune in on Monday, March 25, at 2 p.m. PDT for updates on PlayStation 4 and PlayStation VR games.

According to Sony, you can expect "new trailers, new game announcements and new gameplay footage." But, more curiously, this isn't a one-time thing: State of Play will return throughout the year with more news announcements for fans. Incidentally, Sony also pulled out of E3 2019, making State of Play something of a necessity for the company. At the time, a representative told Polygon that Sony was "exploring new and familiar ways to engage our community in 2019."

Really, it's about time. Microsoft has its own semi-regular live show, Inside Xbox, and Nintendo holds Nintendo Direct presentations every so often to inform consumers about the latest software and hardware developments. It's a good information delivery format, and in Nintendo's case, also a good excuse for fans to come up with new memes. Hopefully State of Play has some charm to it, too.

You'll be able to catch State of Play via Twitch, YouTube, Twitter, or Facebook, and of course, we'll be covering the biggest announcements from the show as well.