Next 'Terminator' movie casts 'Halt and Catch Fire' and 'Blade Runner 2049' star Mackenzie Davis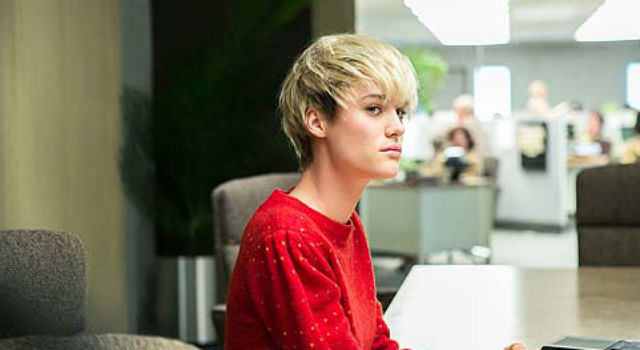 Wait, what the fuck is going on. Am I seriously getting roped into being excited for Terminator 6? God dammit. But, what else should I do? Be skeptical! Oh, I could be. But, the cast! Arnold and Hamilton returning! With Mackenzie Davis joining! And, the director! Tim Miller! Fuck it, why not be excited. I can always be let down in the end. Right?
Mackenzie Davis is in negotiations to join the cast of the Terminator sequel/reboot, which will see the return of franchise stalwarts Arnold Schwarzenegger and Linda Hamilton. The Terminator Mackenzie Davis casting poses an intriguing possibility about what direction the latest Terminator movie will go in.

Variety first broke the story that Davis was in talks to star in the untitled Terminator sequel. She will star opposite Schwarzenegger and Hamilton, both of whom have already been confirmed to reprise their iconic roles as the T-800 and Sarah Connor.

Plot details remain a secret for now, but Davis will reportedly play a key role as "a solder-assassin on a mission," according to The Hollywood Reporter. "It is a human character in a movie that once again sets up the battle between (wo)man and machine," they add.

Davis is no stranger to science-fiction. She played an android Replicant in Blade Runner 2049, had a key role in Ridley Scott's The Martian, and starred in Black Mirror's critically acclaimed episode "San Junipero." The actress seems to be drawn to roles that rest on the edge of humanity and technology.

While sources told Variety that Davis would be the new "face" of the franchise, THR says that the sequel is still looking for its lead star. Producers James Cameron and Skydance's David Ellison are reportedly hoping to cast a Latina for the story's main role, sources told THR. Previous reports have suggested that the film is looking to cast an 18-year old Mexican actress to play the female lead named Dani Ramos. The villain will also reportedly be of Latin descent.

The sequel will be helmed by Deadpool director Tim Miller and will be a direct sequel to Terminator 2: Judgment Day, effectively erasing the last three films that have attempted to continue or reboot the franchise. The Hunger Games and Captain Phillips writer Billy Ray was recently brought on board to polish a script based on a story conceived by Cameron, Miller, and Ellison.

This news comes just as Schwarzenegger revealed the Terminator sequel will begin shooting this summer. According to LRM Online, Schwarzenegger told his fans, "We are starting to shoot Terminator 6 in June to the middle of October, so I am in that. I am looking forward to coming back as the T-800 model."

Technically, the film is the sixth installment in the franchise, though it is essentially a reboot — but I won't fault Schwarzenegger for being confused. This is what happens when you tell a time travel story. It's all confusing! But this confirms that he will return as his beloved T-800 model in the sequel.

The Terminator sequel is scheduled to hit theaters on July 26, 2019.