Monday Morning Commute: If It Bleeds We Can Kill It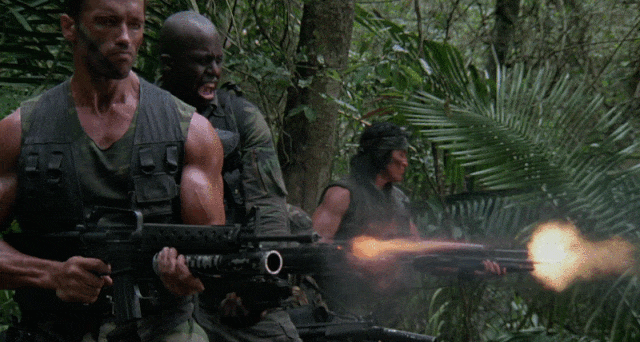 Sometimes, man. Sometimes, I just straight-up spend too much time thinking of a post title for a Monday Morning Commute, and then I spend too much time hunting the perfect image. "Perfect", I know. I'm trash. Anyways, how are you fucking folks doing? You stellar Garbage Lords.
Me?
This guy?
Well, I'm currently pinched for time. Tomorrow I leave for the Great White North, meeting the rest of the family up there for a final service for my Nana. She sloughed the mortal coil last year, I think maybe I discussed it?, and now it's time.
To throw Nana into the marsh behind the family home. Where her shamanistic tendencies can be unloosed, sent to interact with her fellow Reality Melters in the Gilded Plains of the OMNIVERSE.
Me?
This guy?
Well, I'm currently wasting time!
So here, without further adieu, is what I'm currently enjoying, currently looking forward to, currently sweating. Let me know what you're up to this week!
—-
Really Enjoying:
Game of Thrones!
—-
Want To See Again:
Logan Lucky!
—-
Comics Tickling My Asshole:
Southern Bastards and Mister Miracle!
—-
Surprised It Doesn't Suck:
Defenders!
—-
Shaking My Ass To:
Album: Behemoth, Band: GoST!
—-
Goddamn I Love:
Rick and Morty!
—-
Hoping for a Doomsday v Superman Finish For:
Mayweather vs McGregor!
—-
Can't Wait To Play:
Uncharted: The Lost Legacy
—-
Shaking My Ass To (2):
Album: Vol 1., Band: Magic Sword
—-
Highly Anticipating:
Fall!
—-
That's it for me, folks. What are you up to this week?!