Zack Snyder Teases Batman Fight Scene From 'Justice League'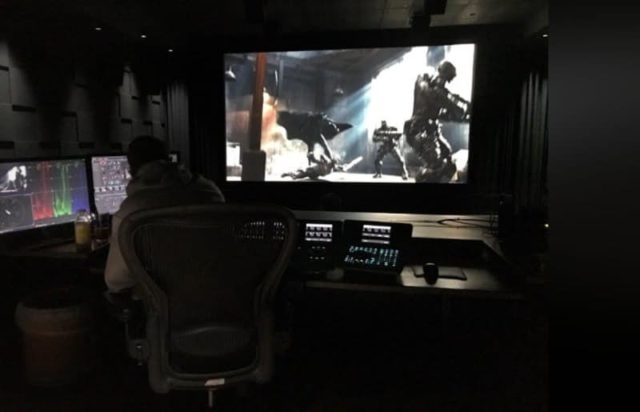 Well. Ben Affleck may or may not be wanting out of the role of The Batman, but that ain't concerning to Zack Snyder. The director took the time today to tease a fight scene from Justice League featuring the masked vigilante flying rodent guy.
Director Zack Snyder shared a new behind-the-scenes image from "Justice League" that teases a fight scene involving Ben Affleck's Batman.

Posted by the filmmaker on the social-media platform Vero, the photo offers a peek into the editing bay as, on the enormous screen, the Dark Knight takes down a heavily armed — and heavily armored — opponent. Two similar foes stand nearby.

The trio bears some resemblance to the Apokoliptian Parademons the Caped Crusader fought in the so-called "Knightmare" sequence of "Batman v Superman: Dawn of Justice." Considering that DC Comics villain Steppenwolf is the primary antagonist of "Justice League," it's very possible these figures are a version of those shock troops. Fans will have to wait at least a little longer to find out for certain.
"Justice League" is set more than a year after the events of "Batman v Superman," as Bruce Wayne and Diana Prince, inspired by the Man of Steel's sacrifice, assemble a team of metahumans to confront the threat posed by Steppenwolf and his Parademons from Apokolips.

Arriving Nov. 17, the film stars Ben Affleck as Batman, Henry Cavill as Supermanm, Amy Adams as Lois Lane, Gal Gadot as Wonder Woman, Jason Momoa as Aquaman, Ezra Miller as The Flash, Ray Fisher as Cyborg, Willem Dafoe as Vulko, Jesse Eisenberg as Lex Luthor, Jeremy Irons Alfred Pennyworth, Diane Lane as Martha Kent, Connie Nielsen Queen Hippolyta and J. K. Simmons as Commissioner Gordon.