'Aquaman' Is Zack Snyder's "Baby" According To Jason Momoa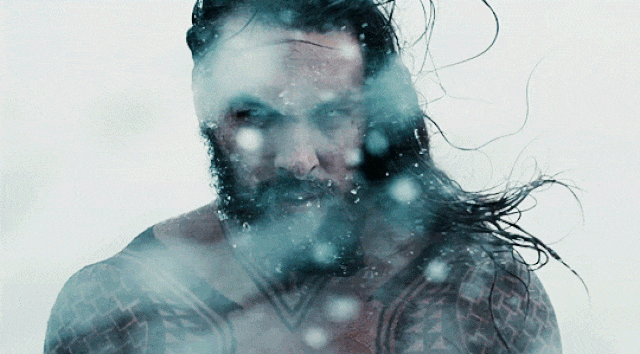 Whelp, if you were excited for Aquaman, maybe temper that excitement a bit.
While other areas of DC's extended movie universe may have undergone a number of changes, there's one that's always remained on target: "Aquaman." The shake-ups that have seen directors bow out of "Wonder Woman," "The Flash" and "The Batman" have not affected "Aquaman." The film has been under the supervision of star Jason Momoa and director James Wan from the get-go, and the "Aquaman" team is hard at work preparing for their spring production start. In a new chat with Digital Trends, Momoa spoke about the film — particularly its solid script.

"I read the ['Aquaman'] script and let me just put it this way, I've never seen a movie that's anything like this," said Momoa. "It's going to be a world that you've never seen before, which is really cool. We went to space, we traveled all over different worlds, but we never went underwater. So it's just a really cool spin on what's below and it uses a lot of great movies that I already love — whether that be 'Raiders of the Lost Ark' to 'Star Wars' to 'Lord of the Rings' to 'Romancing the Stone.' It has a lot of really cool adventure, it's funny and heroic, and there's a lot of different characters and a lot of different worlds that we get to go to. So I've never really seen anything like it. I think it would be an absolutely amazing game and that would be the greatest character in the world."

Momoa also spoke about the influence director Zack Snyder has had on the film. While Snyder isn't helming it, he did direct the first two films to feature Momoa as Aquaman (2016's "Batman v Superman: Dawn of Justice" and this year's "Justice League").

"Zack Snyder is a huge fan of 'Game of Thrones' and I met him in the training stunt facility that I train at and I guess he really liked me because he later called me into his office and we talked about playing Aquaman," said Momoa. "He had a really cool vision for what he wanted to do and how he wanted me to look. It's kind of Zack's baby… But the cool thing with Aquaman is how it taps into the native culture and that's something that we're only taught a little about, so there's a lot of interesting things. I really think it's the right time. It's really cool. Zack is one of those perspectives on it and DC is really getting behind it. It was a ballsy step. They did it, and I'm extremely happy with the world they've created. It's an honor to be part of this."

The "Aquaman" cast is also in the process of growing considerably. Temuera Morrison and Nicole Kidman have been offered the parts of Aquaman's parents, and "The Get Down's" Yahya Abdul-Mateen II may sign on to play the villain Black Manta.

Directed by James Wan and starring Jason Momoa (Aquaman), Amber Heard (Mera), Patrick Wilson (Orm) and Willem Dafoe (Nuidis Vulko), "Aquaman" swims into theaters on October 5, 2018. Aquaman will next be seen in "Justice League," which opens on November 17.