Monday Morning Commute: The Sky Above Was Neon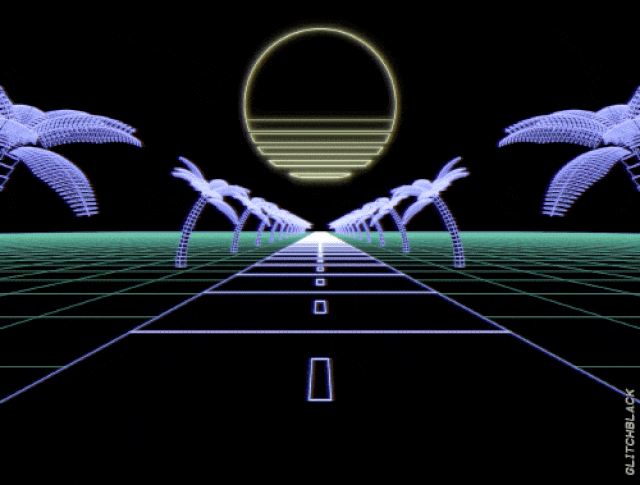 I suppose, invariably, writing Monday Morning Commute on an actual Monday evening will find me: tired, stank-ass from the gym, palming my eye sockets attempting to figure out what to say. So, invariably, here we are. Here I am. Stank ass. Tired. Palming my eye sockets, praying to the Elder Ones to provide Divination. I'm tired, you're tired. I'm somewhat fulfilled, in a somewhat fulfilling job, that compensates for its fulfillment by being tenuously existent from semester to semester, and perpetually stressful about said existence. But as the French Philosopher CaffPow once said, "C'est la adjunct life or some shit." He said that. I said that. I hope you're feeling at least as fulfilled as me, minus the stress, the perpetual scrotum-shrinking stress of contemplating the harrowing, horrifying prospects of what Next Semester Will Bring, less than a week into This Semester.
Fuck, fuck me, I've gotten myself off one of them Old Tangents. They used to be about how I beat my meat inconsolably to gifs of Katy Perry or some shit. Many moons ago. Now they're just another tepid meat-case lamenting its tepidity whilst stuck in said meat-case, completely ignoring how Goddamn Good the meat-case has it Relative To So Much Of The World.
But, uh, buddy. Buddies. How are you folk-fuckers doing? What are you up to this week? Watching anything dope? What are you sweating? Anticipating playing anything dope? Sharing the answers to said questions is not cheating, folk-fuckers. No, in fact, it's encouraged in this post here's comments section. One could even say it's the fucking raison d'être (the phrase popped into my head but truthfully I had to Google it to confirm it actually was a phrase) of this entire column. Generating a self-sustaining Community Bubble wherein we can share what we're STOKED and JACKED for during a given week.
Me, this little ole devil? I'll go first.
Hope to see you in the comments section! Folk-fuckers!
—-
Watching:
I'm six episodes into Westworld and I absolutely fucking adore it. Half of me wants to bash the nutbag of whatever Golem siphoned the premise out of my brains, or through my presence in the Astral Plane. Cause the show seems specifically designed for me. But, instead, I'll just be glad it exists.
—-
Reading:
I'm taking a break from Transmet-As-Catharsis to employ some DMZ-As-Catharsis. If the world is ending, and fuck at the very least it's quivering in the corner of the Existential Universe, in the paroxysms of either a Growing Pain or Death Rattle, I'm going to interpret it through favorite works.
—-
Watching:
Checking out The Autopsy Of Jane Doe this weekend. How much do I know about it? Not much. Only that it is a horror movie which Bateman saw and said it was good, and it's playing at a local theater.
—-
Listening:
"No Kings" by El-P. Fantastic fucking song for a terrible fucking time.
—-
Watching:
Oh yeah! The fucking Expanse returns this week! And, oh golly. And, oh Jesus. I cannot fucking wait for the premiere of the ass-kicking-babe-in-power armor, Bobbie Draper.
—-
Eating:
Hopefully healthy, man. When Sam went away last week, I mourned it/celebrated it with straight fucking gluttony. But lo! And fucking behold! I can feel the pants tightening. The self-hate rising. I must, I must at least beat back the spread of fat kid a bit this week. I must!
—-
Missing:
I fucking miss Dead Space, man. The first two games were so fucking excellent. Then Visceral had to neuter their entire franchise, selling out what made it great in an attempt to cash in on last generation's Gears of War cover-based-boner-craze. I'm thinking about the franchise but I'm stalling on…
—-
Playing:
Resident Evil VII. Sam's home, so I really have no other reason for not playing it. Aside from, you know, my absolute certainty that it's going to fucking terrify me.
—-
Watching:
I've been digging the fuck out of Mob Psycho 100. It's another anime from the crew that adapted One Punch Man, and it shows. In all the right places.
—-
That's it for me, folks. I'm flying! Flying to wrap this shit up before Monday Night Raw.
So – so – so – so tell me! What are you looking forward to this week?