Marvel's 'Defenders' Come Together On 'Entertainment Weekly' Cover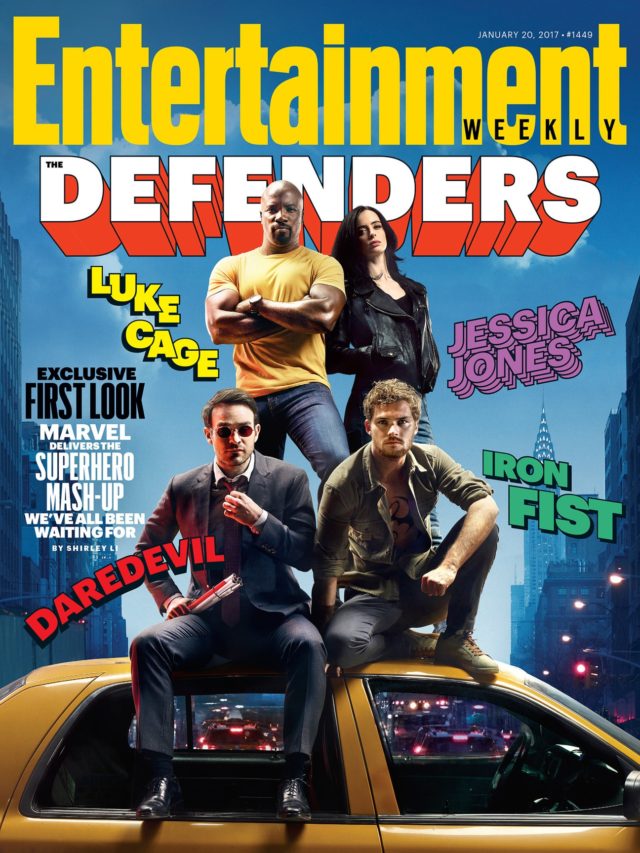 Here's a look at all of Marvel's Defenders. Together. Truthfully being rude af and posting up on a fine citizen's taxicab just so they can look bad ass. But hey, whatever. When you save NYC, you understandably grow a sense of entitlement.
And if you're hoping for a lot of details about the team-up, you're not going to find it in the accompanying article. However, it does provide clues as to where — offices at Midland Circle, a location familiar to "Daredevil" viewers — and, sort of, how they come together.

"Every one of them is following their own trail of bread crumbs, trying to unpack a mystery in New York," showrunner Marco Ramirez tells the magazine. "We wanted them all caught off guard. Once they're in that room together, it's kind of like, 'Oh, s—, who are you?'"

A video designed to introduce each of the four principal characters delves a little into the team dynamic, revealing that Iron Fist may be central to confronting the threat. "So, Danny Rand — he's the one who knows really wants going on," Jones says. "He knows how serious this situation is."

That would make sense, considering that Midland Circle suggests the enormous hole at Midland Circle discovered by Matt Murdock and Elektra in "Daredevil" Season Two is tied to the Hand and their mysterious (possible) supernatural shenanigans. That seems entirely up Iron Fist's alley. How Sigourney Weaver's still-unnamed villain ties into that remains to be seen.

"Marvel's The Defenders" debuts later this year on Netflix. "Iron Fist" arrives March 17.