Carrie-Anne Moss joining 'Iron Fist', reprising her 'Jessica Jones' role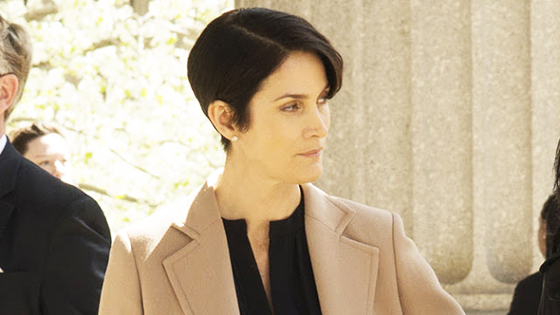 I haven't watched all of Jessica Jones. I know Carrie-Anne Moss is in it, though. I also know Carrie-Anne Moss is in the second season of Daredevil, cause I did watch that shit. Now Moss is joining Iron Fist, becoming another integral thread weaving together all of the Netflix-Marvel-Verse.
"Carrie-Anne has fast become a fan-favorite part of our street level saga, and we share our viewers' excitement in bringing her into 'Marvel's Iron Fist,'" said Executive Producer/Head of Marvel Television, Jeph Loeb. "As Marvel fans know, Hogarth in the comics plays a critical role in the life of Danny Rand so it seems only fitting that Carrie-Anne join in."

"Danny Rand lives in the highest stratosphere of New York's business society and he's going to need a ruthless lawyer to help him navigate this alien world," said Executive Producer and Showrunner, Scott Buck. "I'm very happy to have the opportunity to bring Carrie-Ann Moss as Jeri Hogarth into 'Marvel's Iron Fist.'"

That all sounds very lovely and we look forward to seeing how it pans out when Iron Fist eventually springs onto Netflix. Speaking of which, things are getting increasingly crowded in the Marvel Cinematic Universe: TV Edition.Luke Cage is earmarked to debut as its own series on September 30, a second season of Jessica Jones is on the way, The Defenders is still on the horizon and there's The Punisher looming in the distance. It might not feel like it between binges, but Netflix viewers are spoiled for future Marvel options. ABC viewers? Well, not so much.