'Han Solo' Spin-Off Movie will feature Chewbacca. Obviously.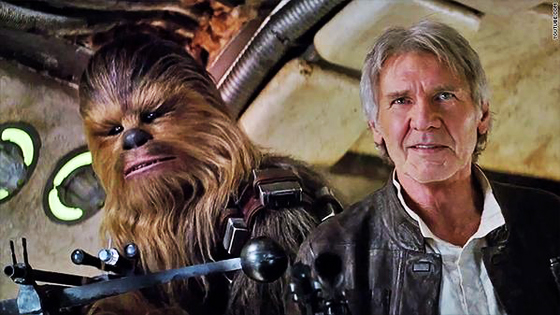 I sort of figured that any movie starring Han Solo will also star, to some extent, is fucking Ride or Die Hairy Breh. Just sort of figured that. Assumed it. And apparently I wasn't assuming-figuring-dreaming too wildly, because Disney Czar Bob Iger confirmed my assumption-figuring-dream.
During the Deutsche Bank 2016 Media, Internet & Telecom Conference, Disney chief Bob Iger confirmed Chewbacca would appear in the as-yet-untitled "Han Solo" anthology film.

"We have other [films] in the works, including one, which is an origin story about Han Solo and Chewy," he said. "And that'll come after 'Star Wars 8' in 2018. And then there'll possibly be more thereafter."

While many fans assumed Chewie would factor into Han Solo's solo film, this is the first confirmation that Han's right-hand wookie would appear. The film is currently seeking to cast its lead. Miles Teller, Dave Franco, Logan Lerman and Ansel Elgort are said to be among the names on Lucasfilm's shortlist. Variety previously suggested that whoever is cast in the role could make an appearance in December's "Rogue One: A Star Wars Story," which is set just before the event of "A New Hope."

Written by Lawrence Kasdan and Jon Kasdan, the untitled "Han Solo" movie is scheduled to open May 25, 2018.