'Mad Max: Fury Road' is returning to IMAX on September 11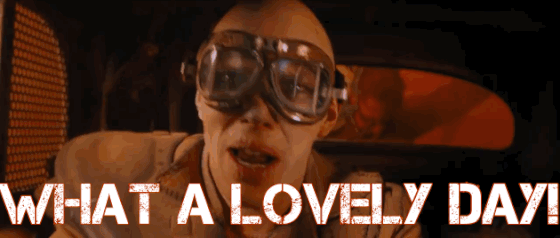 Oh fuck! Did you fuck up royally, and not catch Mad Max in theaters? Now is your chance! Do you spend your days pining for another opportunity to see the film on an enormous screen? Now is your chance! Fury Road is returning to IMAX theaters on September 11.
How do you follow a $374 million global box office, a Blu-ray release and international accolades? By returning to IMAX theaters.

Director George Miller's "Mad Max: Fury Road" will be re-released domestically Sept. 11 in IMAX theaters, where most fans would probably argue the post-apocalyptic action film should be – must be! — seen.

The announcement quickly follows the surprise selection of "Fury Road" as the best film of the year by the International Federation of Film Critics.

"You could have knocked me over with a feather!" Miller said in a statement. "It's lovely to have this great cohort of critics acknowledge our collective labours in this way." He'll receive the award Sept. 18 during a gala screening at the San Sebastian International Film Festival.

"Mad Max: Fury Road," which debuted May 15 in the United States, stars Tom Hardy, Charlize Theron, Nicholas Hoult, Rosie Huntington-Whiteley, Riley Keough, Zoë Kravitz, Abbey Lee and Courtney Eaton.