Darth Vader-themed limited edition PlayStation 4 is coming; bundled with classic games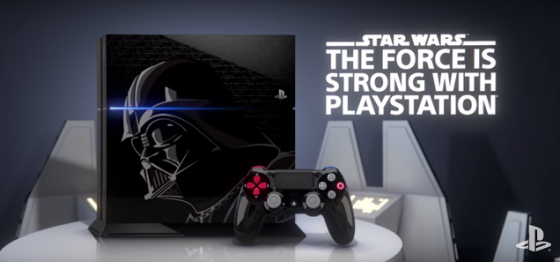 I don't fuck with themed or limited-edition consoles. 'Cause, I don't know, committing the aesthetic of an entire console to one game or property just ain't my thing. But if I did fuck with them! Oh boy, would this be a console worth considering. (I'm hoping the games will be available, outside of this bundle?)
Now this is cool—in honor of Star Wars Battlefront, Darth Vader is getting his very own PlayStation 4, which is a pretty decent reward for that whole redemption thing.

The limited-edition PS4 will launch on November 17 with two different bundles—one includingDisney Infinity and one with Battlefront. Both bundles will also feature four old Star Warsgames—one SNES game and three PS2 games. Says Sony:
The bundle also includes Star Wars Battlefront Deluxe Edition, as well as a digital voucher to download four classic Star Wars titles – Super Star Wars, Star Wars: Racer Revenge, Star Wars: Jedi Starfighter and Star Wars Bounty Hunter – playable for the first time on PS4, and sporting enhanced graphics and Trophy support.