'The Force Awakens' photos from 'Vanity Fair' reveal villain, more details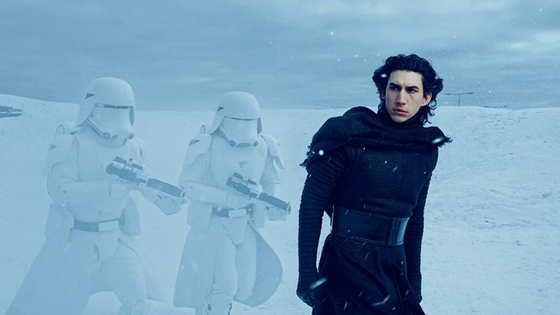 May the fucking Fourth be with you, yadda, yadda, pop culture momentum, blah blah. Let me not get wrapped up in the banality of the Pseudo-Holiday, and instead be excited for these photos form Vanity Fair.
In celebration of Star Wars Day — aka "May the 4th Be With You" — "Vanity Fair" has not only debuted the cover of its June issue, featuring stars of "The Force Awakens," but also revealed more details about the mysterious characters played by Adam Driver and Lupita Nyong'o.

And, in case that weren't enough, there are portraits by celebrated photographer Annie Liebovitz, and a behind-the-scenes video.

Driver is shown, unmasked, as Kylo Ren, the three-pronged lightsaber-wielding hooded figure from the teaser trailer, only here he's accompanied by Imperial snowtroopers on a frozen planet. Nyong'o, meanwhile, is revealed to be playing the CG character Maz Kanata, whose castle is filled with an assortment of colorful pirates.

The images also include director J.J. Abrams giving instructions to actress Daisy Ridley, Oscar Isaac striking a heroic pose as Resistance pilot Poe Dameron, and the "Star Wars" brain trust (Abrams, Lucasfilm President Kathleen Kennedy and co-writer Lawrence Kasdan, joined by composer John Williams).

The June issue of "Vanity Fair" arrives on newsstands May 12.