Weekend Open Bar: Straight shots of the sterno!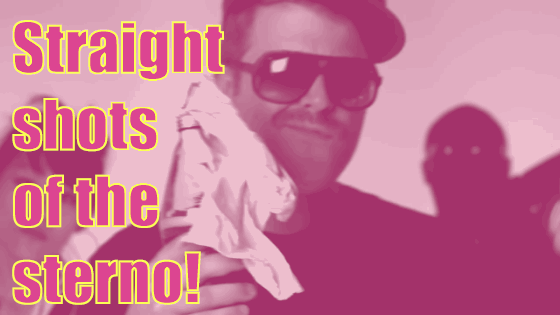 How is it that I only had three days of work this week, and I'm fucking staggered? Could it be the Omni-Pall that has encapsulated Massachusetts? Perhaps, perchance, probably. All I know is that it's Friday and I'm ready to hit the Open Bar. Shove aside Rendar who is bartending, reach behind the counter, find the biggest, filthiest bottle of Mind Alteration, and take a rip.
This is Weekend Open Bar. Where we hang out across the Two Days most of us use to Convalesce before heading back into the Furnace. Drop what you're doing this weekend. Drop gifs. Drop how fucking non-stoked you are for the blizzard hitting Boston tomorrow. Drop that ass. It don't matter.