NASA's Orion launch is a f**king success. Behold America's new space-craft.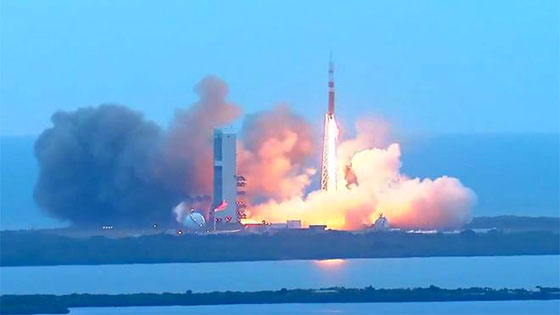 NASA's Orion spacecraft is a pretty big fucking component of their drive towards Mars. So glory, glory, glory be to The Force that its launch went fucking perfectly perfect today.
NASA's new Orion spacecraft made a flawless launch, a glorious flight to space, and a "bull's-eye" splashdown today. The journey was "the most perfect flight you could ever imagine," said Mission Control commentator Rob Navias.

Watch the stunning launch video:

The entire operation was as close to perfect as it gets. The unmanned Orion craft launched successfully atop a United Launch Alliance Delta IV Heavy rocket today, Dec. 5 2014, at 7:05 a.m. EST from Space Launch Complex 37 at Cape Canaveral Air Force Station in Florida.

Orion splashed down some 4.5 hours later in the Pacific after a breathtaking test flight that reached 3,604 miles from earth, and in doing so, heralded a new era of manned spaceflight.

Exploration Flight Test-1 (EFT-1) is the first flight test for NASA's new deep space capsule and represents a critical step on NASA's journey to Mars.

"There's your new spacecraft, America," said Navias when the Orion capsule prepared to splash down some 270 miles off Mexico's Baja California peninsula.

Don't miss our earlier dispatch from Cape Canaveral by Sawyer Rosenstein, and here's the official NASA blog with a blow-by-blow of today's wonderful, historic flight. Go Orion! Some photos from NASA today, in more or less reverse chronological order.
Fucking killer news in the Space Exploration Department.