'Toy Story 4' is a thing. Arriving June 2017.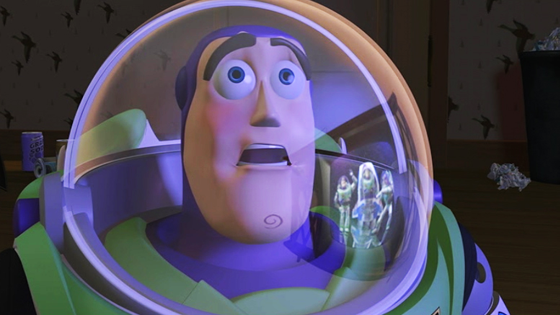 I'm in a fucking bind here, guys. I know deep down in my heart that more Star Wars stories aren't needed. But I want them. I need them. So when I want to say Toy Story 4 isn't needed…I can't. I realize the situation. I realize the Truth. I don't have a fucking leg to stand on. I get it. So if you're excited, enjoy this movie. Be merry. I can't be a hypocrite.
Further details of "Toy Story 4" have emerged via a Disney press release, which reveals that the writing team of writer/actors Rashida Jones and Will McCormack (who penned 2012's "Celeste and Jesse Forever") have joined the film, and that the targeted release date is June 16, 2017.

Additionally, the released confirmed the story was devised by John Lasseter along with fellow "Toy Story" vets Andrew Stanton, Pete Docter and Lee Unkrich.

"We love these characters so much; they are like family to us," Lasseter said in a statement. "We don't want to do anything with them unless it lives up to or surpasses what's gone before. 'Toy Story 3' ended Woody and Buzz's story with Andy so perfectly that for a long time, we never even talked about doing another 'Toy Story' movie. But when Andrew, Pete, Lee and I came up with this new idea, I just could not stop thinking about it. It was so exciting to me, I knew we had to make this movie — and I wanted to direct it myself."

Variety reports that Disney and Pixar are set to bring back the "Toy Story" franchise with a fourth film directed by John Lasseter. The announcement was made during the Walt Disney Company's quarterly earnings call by Disney head Bob Iger.

"Toy Story 3" had an incredible box office run for Disney in 2010, earning close to $1.1 billion worldwide. While the third film put a cap on the toys' adventures, leaving them with a new owner and other new toys with which to interact as their old owner Andy went off to college, the franchise has continued with a series of shorts and television specials, including the upcoming "Toy Story that Time Forgot" and 2013's "Toy Story of Terror."

While the cast and further details of "Toy Story 4" are currently unknown, it's a pretty good assumption that most of the cast — including Tom Hanks and Tim Allen — would come back to reprise their roles as they've done for the television specials. Lasseter's return is also understandable — the director helmed both 1995's original "Toy Story" feature film and it's 1999 sequel, with frequent collaborator Lee Unkrich directing "Toy Story 3."
Are you excited? Let me know!