Marvel reveals new 'Secret Wars' by Hickman and Ribic dropping in 2015.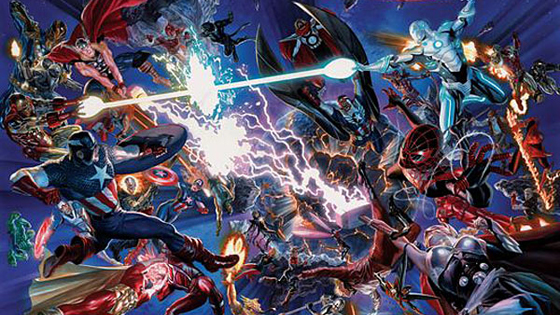 How do you get me to give a fuck about a Marvel event? Especially a seemingly refried edition of a previous event? You pop Jonathan "Big Daddy Philosophy Kane" Hickman and Esad "Everybody's Mouths Are Open" Ribic on the fucker. Seriously, they're two of my faves.
Marvel will publish a new "Secret Wars" by writerJonathan Hickman and artist Esad Ribic as a year-long event starting in May 2015, the publisher revealed the Thursday night of New York Comic Conat an offsite event at Avengers S.T.A.T.I.O.N. in Times Square. The story will commence at the conclusion of the currently running "Avengers" and "New Avengers" storyline, "Time Runs Out."

"This worked out for us pretty well a long time ago," Dan Buckley, Marvel's President & Publisher of print, TV and digital, said at the event. Buckley said it's a story Hickman has been planning since the start of his run on "Avengers" and "New Avengers" in 2012; saying he wanted to revisit the classic crossover but tell the story in a "different way."

"We've been sitting on this for a very long time," Buckley said. "When Jonathan brought this to us, we had an opportunity to just not celebrate this in publishing, so we're going to be extending this in a year-long program into 2016 with our merchandising partners, digital partners and other partners."

 Buckley's plans fit firmly in "Secret Wars" tradition — the original 1984 story, one of the most popular and influential mainstream comic book events, was a year-long 12-issue story, and had a heavy merchandising aspect in the form of a toy line from Mattel. Three of the merchandising partners named for the new "Secret Wars" was current Marvel toy license-holder Hasbro, Gentle Giant and retail chain Hot Topic.

"There will be many more announcements leading up to May and beyond May," Buckley said.
Honestly — I don't even know what the fuck "Time Runs Out" is, so I'm going to need to do some figuring out leading up to this Event. But with the aforementioned team helming it, sign me the fuck up.