PEGGY CARTER from 'CAPTAIN AMERICA' GETTING HER OWN TV SHOW. Righteous.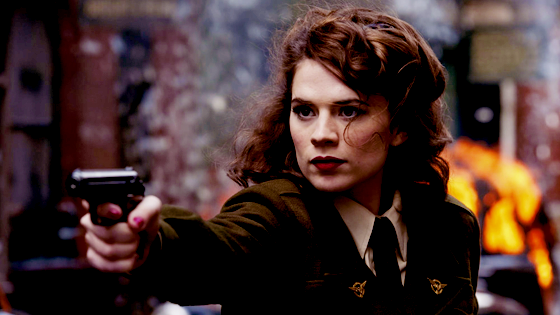 I say goddamn yes! Let this be true. Peggy Carter was a gem in Captain America: Pump Him Full of Drugs Then He Can Pump Me. Unfortunately since Steve Rogers decided to go full fucking popsicle, it sort of purged what would be an Old As Fuck Peggy Carter from the MCU. However, there's a way around that! A way around that!, true believers. A television show set in the past featuring her stellar goddamn adventures. Let this be true.
We told you back in October that Hayley Atwell would love to reprise her role as Peggy Carter on the small screen, and today, the internet is ablaze with rumors that this awesomeness might actually be happening. Following in Agents of S.H.I.E.L.D.'s footsteps, Agent Cartercould be the next show on Marvel's docket. I'm shaking just thinking of all the retro cosplay opportunities that this show could bring us.

According to The Daily Mirror (yeah, we know) Atwell has officially agreed to star in Marvel's newest TV venture, which would see Carter kicking butt and rocking the red lip back in the 40′s. Supposedly, this will be Marvel's "big project of 2014," and we should expect to seeAgent Carter on our screens by the end of the year. That would mean we'd see Carter's WWII-era antics a full year before Marvel's Netflix series featuring Luke Cage, Jessica Jones, Daredevil, and Iron Fist take shape.

If Peggy does get her own series, she'd be picking up where Phil Coulson left off, giving us the stories of the regular people that the superheroes of the Marvel universe leave in their wake. And don't forget, not only is Carter a tough, Nazi-fightin', non-spandex-wearing, superpower-free lady, but Atwell herself is also pretty amazing.