MARVEL announces "ALL-NEW MARVEL NOW', falls into RIDICULOUS SELF PARODY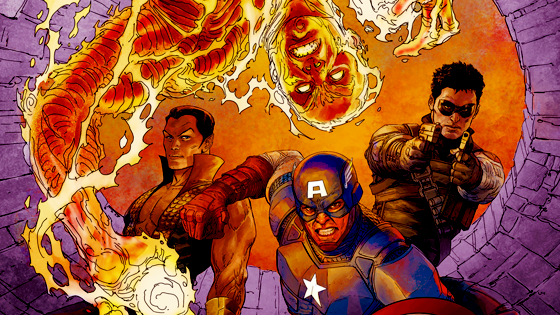 What do you do when you don't own the movie rights to half of your properties? If you're Marvel, you begin pushing other, lesser kown titles. Not a knock against these new titles, but yeah. What do you do when need to perpetually hype your company? You fall into ruinous marketing stupidity like taking a dumb name "Marvel NOW", making it more dumb "All-New Marvel NOW", then generally fuck with numbering.
This morning via USA Today, Marvel unveiled its next wave of new titles. Following last year's successful Marvel NOW initiative, this second wave is titled "All-New Marvel NOW" and will feature thepreviously announced Inhuman by Matt Fraction and Joe Madureira, and the newly revealed All-New Invaders by James Robinson and Steve Pugh.

Describing the motivation behind the launch of All-New Marvel NOW, editor-in-chief Axel Alonso told USA Today: "Our characters roll deep, and it's giving people fresh, new voices, breathing life into characters that quite frankly just deserve their own spotlight."

Robinson and Pugh's All-New Invaders will feature Captain America teamed with original World War II Invaders members Namor, the first Human Torch, and Bucky Barnes — now known as the Winter Soldier — in modern day, as they take on the alien Kree Empire. Fraction and Madureira's Inhuman spins out of Marvel's current Infinity storyline, focusing on events that take place after a large portion of the human population is exposed to the terrigen mists, which give the Inhumans their powers.

This latest initiative will kick off in December, with some current titles taking on renumbering as a result — that month's Avengers issue, written by Jonathan Hickman and illustrated by Esad Ribic, will be numbered 24.NOW, and serve as a jumping-on point for new readers to Marvel's flagship title, as the team regroups in the aftermath of Infinity to deal with a rogue planet hurtling toward Earth. Also of note, select NOW issues of ongoing titles will have a digital code for the first collection of issues, allowing new readers to catch up for free.

In the same way Marvel NOW brought Nova and the Guardians of the Galaxy to the forefront, All-New Marvel NOW will focus on characters like Black Widow, Silver Surfer and the Inhumans, with the latter likely being given the same kind of push from the publisher that Guardians of the Galaxy has received under Marvel NOW, a decision that has worked out well for Marvel, though having an upcoming feature film certainly helped matters.