Kevin Smith calls 'CLERKS 3′ the series' 'EMPIRE STRIKES BACK.' This explains everything.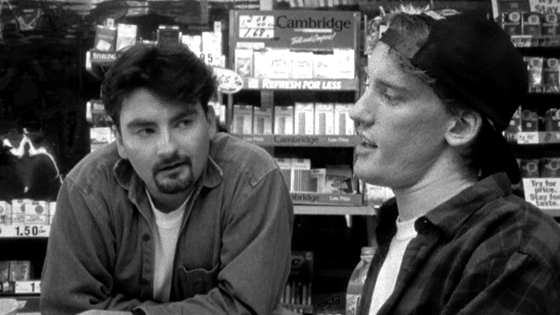 This dumb as shit quote from Kevin Smith explains a lot. Namely, how willing he is to pander to geeks' loves. Or how out of touch he can be with his own work. Or how he would routinely praise the prequels back in the day.
Just.
Just no.
After first teasing that "Clerks 3" would be a movie, and then saying that it might be a book, the vacillating Kevin Smith has gone ahead an finished the damn thing as a screenplay. But wait, there's more….

"IT IS ACCOMPLISHED! First draft of CLERKS III is 137 pages," he tweeted today. "Plays like the EMPIRE STRIKES BACK of the Clerks trilogy."

We're not sure what that means, but Smith fans will doubtless be very excited for another outing with Dante and Randal (although it's worth noting that the entire enterprise rests on whether or not the latter decides to come back, we're inclined to think he will). Whether or not this actually gets made remains a whole other question of course.

Being a first draft, subsequent drafts will presumably jettison the fat to get it down to the lean 90-minutes that the previous instalments ran to….right? Because no one wants to see a two hour plus "Clerks" movie…do they? This is the same Smith whose hockey movie "Hit Somebody" went from being an already big, two movie project, into a six hour TV series so perhaps Brevity isn't a quality that's exercised in Smith's latter day pre-"retirement" era.

Will "Clerks 3" get made? We'd have to guess that it probably will. They're cheap, Harvey Weinstein and Kevin are contentious old pals, who will both be glad to make money together again, producing a "Clerks" movie is hardly a strain unless this suddenly has large-scale set-pieces. Plus the Weinsteins reacquired the "Clerks" rights a few years back so we suppose if they have a chance to exploit it again, they'll want to.