Dave Perillo strikes awesome with this 'EMPIRE STRIKES BACK' poster. I know, -1 for the pun.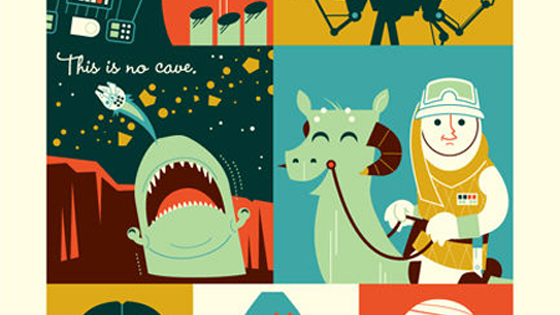 Dave Perillo's Empire Strikes Back poster is an adorable (albeit expensive) little morsel of nerdery I wish I could purchase. Seeing that I am poor (I originally typed porn here, if you want a look into my psyche), I must worship it from afar.
Hit the jump to check it out.
Bounty hunters, giant worms and the biggest reveal in movie history. Artist Dave Perillo strikes back with his second Star Wars poster. Back in February, the artistreleased an awesome poster for Star Wars and now he's completed the sequel, The Empire Strikes Back. Acme Archives is releasing the 12 x 36 inch silkscreen in an edition of 250 on April 19. It's comprised of all your favorite scenes from what's widely considered the best of the six Star Wars films. Check it out, exclusively, below.
[cont]
Where's Han Solo in Carbonite? I'd imagine he'll be on a third poster, for Return of the Jedi, which I'm sure we can expect over the summer.

This poster costs $50 and goes on sale Friday April 19 at a random time. Follow@AcmeArchives for the info and keep refreshing this on sale page.