Rumor: YODA getting his own 'STAR WARS' stand-alone movie. Oh god, his dialogue.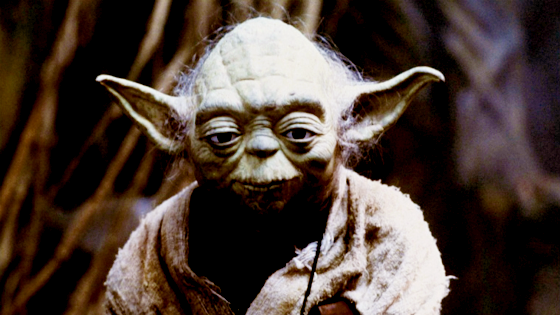 A man can't even lay in bed and slowly drift asleep while fumbling through his RSS feed anymore. No, indeed not. Just as I was sloughing off the conscious coil for Sleep World, I came across this rather sizzling story. It smells like ice cream headache-inducing dialogue spread across a couple of hours. Though I have to say, if Disney wants to treat Star Wars much in the same way as Marvel treats their universe, I'd be fine with that. Stand alone movies running alongside bigger, more sprawling ensemble flicks. Give me them all, my Star Wars loins smolder at the very thought.
AICN says "The first Stand Alone film is going to center upon YODA. At this stage specifics are sparse, but Kathleen Kennedy is putting together a STAR WARS slate." Harry writes the piece, but doesn't have details other than that exclamation. Will this be Yoda as seen in the original trilogy, or the prequels, or in some other point in his life?

Harry also teases the idea of a Jabba the Hut story — and that would be interesting, as there's a Han Solo-ish film to be made in which Jabba comes to power, perhaps — but there's nothing big to rely on there, either.

We've heard that the scripts by Simon Kinberg and Lawrence Kasdan, originally thought to be for additional core Star Wars episodes, could be for spin-off films featuring side characters. As Kasdan wrote The Empire Strikes Back, and so was one of the primary creators of Yoda, his script naturally comes to mind as a possible confirmation of this story. But we don't have that piece of the puzzle yet.

There's a lot of room for denial here, and the truth is that we might have to wait another year or two to really start to get a bigger view of the LucasFilm plans. The company knows they've got something big, and is doing a good job of managing interest in Star Wars at this point. We also know that merchandise is always going to be a part of any plans for the Lucas universe, and a Yoda film — complete with a collection of other cute but tough alien characters — could be a bonanza in that department.