'REVENGE' star Emily VanCamp is SHARON CARTER in 'CAPTAIN AMERICA: THE WINTER SOLDIER', say word?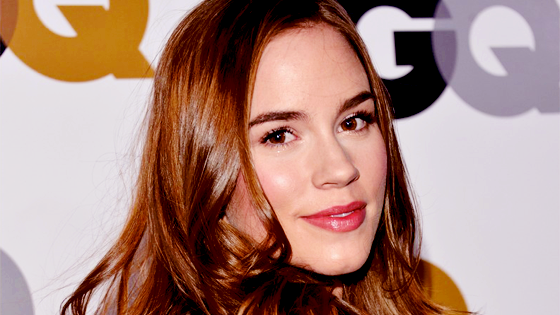 Emily VanCamp has landed the female lead in Steve Rogers: Hurting for Tony, Humping for World Peace. I'm not familiar with VanCamp, but I am certain she will perform the role admirably. Or not. Then I'll hurl frozen hot dogs at her at SDCC, screaming that her love for Rogers could never match mine.
"Revenge" actress Emily VanCamp has signed on to play the female lead in Marvel Studios' "Captain America: The Winter Soldier,"Deadline reports. Although the role isn't specified, it's been long presumed to be that of S.H.I.E.L.D. Agent Sharon Carter, the niece of Peggy Carter and the romantic interest of Steve Rogers.

The 26-year-old actress beat out a long list of contenders that's rumored to have included Mary Elizabeth Winstead ("Scott Pilgrim vs. The World"), Emilia Clarke ("Game of Thrones"), Imogen Poots ("Fright Night") and Alison Brie ("Community").

Directed by brothers Anthony and Joe Russo, "The Winter Soldier" is believed to be based on the acclaimed comic-book storyline of the same name in which writer Ed Brubaker revealed Captain America's World War II sidekick Bucky Barnes didn't die in the 1945 explosion that left the superhero in suspended animation in a block of ice. Instead, an amnesiac Bucky was rescued by the Soviets, fitted with a bionic arm and programmed to serve as an assassin known as the Winter Soldier. The secret is revealed in the present day only after he seemingly killed the Red Skull and launched a terrorist attack on Philadelphia.

VanCamp, whose credits also include "Everwood" and "Brothers & Sisters," joins a cast that includes Chris Evans as Captain America, Sebastian Stan as Bucky Barnes, Anthony Mackie as the Falcon, Scarlett Johansson as Black Widow, Samuel L. Jackson as Nick Fury, Toby Jones as Arnim Zola and Frank Grillo as Crossbones. "Captain America: The Winter Soldier" opens April 4, 2014.