Buy These F**king Comics! – Dec 5, 2012: Hawkeye's Quiver Burns Like Hell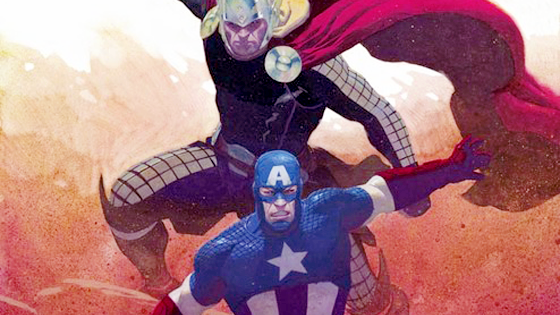 Welcome to Buy These F**king Comics!, the column where all of us goobers get together and share the funny books we're interested in buying in a given week. There is nothing so magical as hitting the shelves on Hump Day and snagging some comics to drag our wayward asses through the final two days of drudgery. Except maybe winning the PowerBall. That seems really magical. Plus, if I won it I wouldn't have to scrape gum-covered quarters off the inside of trash cans to buy my comic books. Shit, that sounds pretty neat. Okay, so buying comic books is second in the line of majestic happenings. But it's a close race. So, uh. Yeah. Again, welcome to the column. If I don't mention your favorite weekly drop, let me know it in the comments section. If you are one of those booger-eating maestros who is too busy attempting to calculate the enormity of the Multiverse to know what is coming out this week, hit up Comic List. It'll do you good.
—-
Avengers #1.
Finally! If there is any title that is going to pull my ass out of the pall that Marvel Now! has plunged me into, it's this jam right here. Johnny Hickman and Jerome  Opeña are teaming up to bring the galactic back into the Avengers. The two creators roll deep in my heart, and I'm leaving it to them to find me and save my spirit. I'm am sitting in an alleyway, wearing my Heroes Reborn t-shirt and muttering about the good old days. Even though I'm fatigued with every single Marvel title seemingly relaunched on an annual basis, they will lead me out of this alley. Holding their hands, I'll walk right back into Fanboy Hall. Bolstered by the knowledge that my favorite Marvel writer is penning its flagship title. Or what was their flagship title until they uncorked Uncanny X-Vengers or whatever. I'm getting negative. I'm getting negative! I need to stop. It'll be good. It has to be good.
—-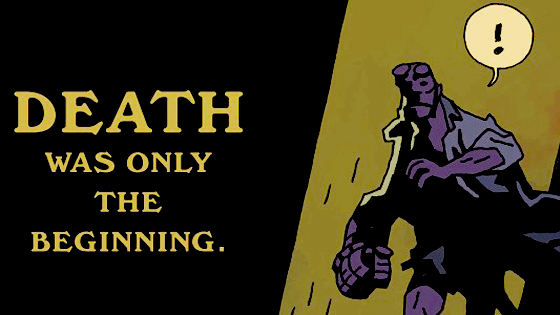 Hellboy In Hell #1.
God damn! Did you know that Hellboy died last year? I did. I read the comic! Funny how that shit works. Nothing good can stay buried in the world of funny books however, and the Horned One is being granted new comical life in the bowels of the Inferno. Mike Mignola himself is arriving onto the scene to draw his creation for the first time in many a moons, and that's enough to get me interested in the title. What exactly does Hellboy do in Hell? Isn't that like going home, or something? Is he going to eat a pizza with Mom? Groan. Insert trite audience laughter. Worry not! I read the advertisement. There are totally secrets to be revealed. Guest appearances from Hellboy's wonky neighbor Beelzebubba.
Whatever. Words are just drizzling out of my fingers. You can tell this is just vamping because I've never really followed Hellboy religiously (pun?), but I've snagged him here and again. I'm going to use this wondrous moment to attempt a following. I hope.
Side note: Any devout Hellboy fans want to recommend a story or two for my perusal? Hit me.
—-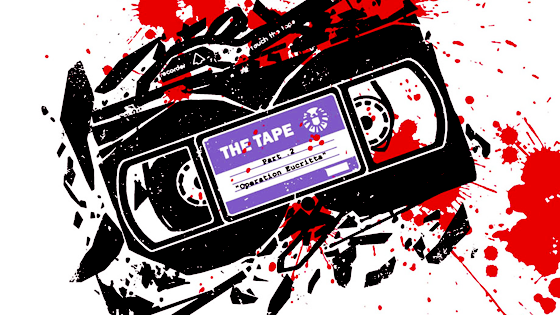 Hawkeye #5.
Up until this Sunday, I hadn't read a damn issue of Hawkeye. It wasn't from lack of interest. No ma'am. Ever since they went full Voltron on Iron Fist and combined into some synergistic masterpiece, Matt Fraction and David Aja have been two of my favorites. My negligence was the result of a two month siesta from comics, followed by a general malaise at hunting down issues.However thanks to the caring heart of our own Johnny Hotsauce, I was capable of getting my greasy mits on the first four joints. My word. I had a faint idea that the title was excellent, but the actual product blew my fucking skull-cap off. The first three issues were over-the-top fun, leading me to belly laughing in a quiet room. My girlfriend gave me looks, and I tried to explain it but failed. "Babe, he keeps having his bad guys say 'bro!', is all I could muster. I did it no justice.
My only concern is with Aja's ability to contribute monthly. The fourth issue wasn't graced with his presence, and I noticed my enjoyment plunged like a mofuckah. I'm cool with a spot issue every once in a while giving Aja time to create, but let us not lose him outright.
—-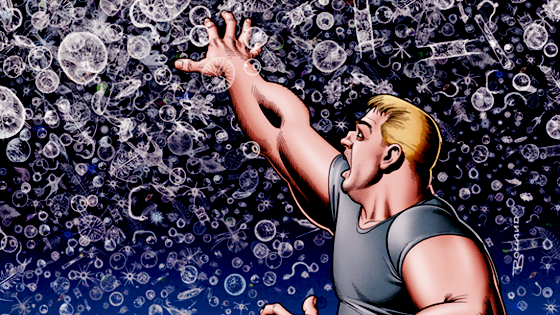 Shit I should be reading.
With the aforementioned two month break from even attempting to cop funny books, there is a litany of titles that I have fallen behind on. Or if I haven't fallen behind on them, I have been daunted by how many issues it would take me to get into the series. If you know me, you know that one of the things I am best at is self-flagellating. So I'm currently utterly condemning myself for not being able to jump on the following titles tomorrow: Animal Man #15, Epic Kill #7, Swamp Thing #15, Dial H #7. I'm no less than like five behind on any of these comics, and the idea of attempting to catch-up is enough to break my brittle anxiety-riddled soul over an Existential Bane's knee. Or something. Woof at that attempt at metaphor. What can you do? Fail again, fail better.