DC Reintroducing Prominent Character As Gay; Dick Grayson Please.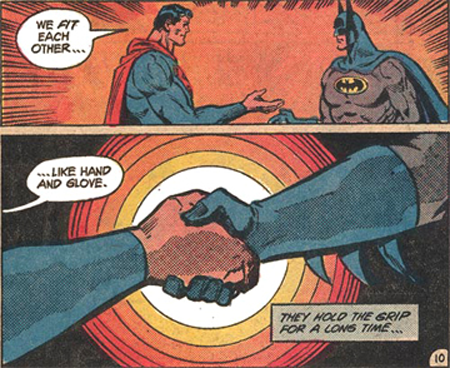 DC is reversing the claim they made last year where they stated that they would not reintroduce an established prominent character as gay, instead wanting to focus on organically introducing homosexual characters into their universe. What a difference a year makes, no?
Less than a year after Dan DiDio indicated that DC Comics wouldn't alter the sexual orientations of existing characters in the New 52, the co-publisher revealed Saturday at the Kapow! Comic Convention in London that he's changed his position.

When asked by a fan during  the DC All-Access Panel  why race or age could be changed in the relaunch but not sexual orientation,  Bleeding Cool  reports DiDio responded that a previously established heterosexual character will be reintroduced as "one of our most prominent gay characters." Bob Wayne, senior vice president of sales, added that like President Obama, DiDio's stance "has evolved."

It's a significant shift from July, just before the relaunch, when DiDio told the gay and lesbian magazine  The Advocate, "One of the things we're very focused on doing for these types of stories is rather than [change an existing] character, we want to make sure that this is the basis of who that character is right from the start. So if we're going to introduce a gay character in  Teen Titans, we want to make it a new character and make sure that is an iatrical part of who he is, or who she is, right from the start so we can really lean and grow with her or him." (Note: That's  probably  supposed to be "integral," not "iatrical.")

The  New York Post  weighed in this morning, suggesting that DC "could be feeling the gay heat " from Marvel,which appears poised to wed Northstar to his boyfriend Kyle next month in the pages of  Astonishing X-Men.
What do you think on the matter? Who do you anticipate?