Buy These F**king Comics! – May 8, 2012: Destroy The Earth, Touch The Animals.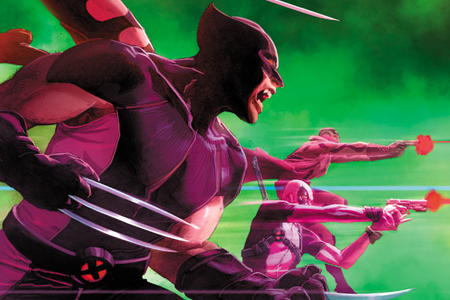 The name is a command, but this jib-joint is a commune. We put on our comfy clothes. Right now I'm wearing sweatpants, black socks, a cheesy pop culture t-shirt. We sit in a circle. Capri Sun will be given to all. Then we talk about the comic books we're buying this week. Sharing is caring. No belligerence, no snark. Rub my belly. It's warm, isn't it? That's because it is powered by my love for you, my comic book brethren. If you can't keep the PMA you'll be jettisoned to the dungeon, to dick-wrestle labia monsters with teeth and ill intent.
Don't know what comics are coming out? Here's a list.
—-
Uncanny X-Force #25
Rick Remender is a beast of a writer. If you haven't heard of him by now, just give it a year or so. I'd be goddamn surprised if he isn't sitting in the Iron Throne helming Marvel's Big Event in the next couple of years. He is not new to the machine over at Quesadaville, but it has yet to harness his talent and channel it into pure Spectacle Drivel. For now, Imma go ahead and sate myself on the fantastic work he's dropping monthly on  Uncanny X-Force  (among other things). I can't believe this is the 25th issue of the rag. It feels like just yesterday I was digging my fanboy-talons into this X-title, completely incredulous. You see, when I first got into UCXF it had been a long time since I had actually got up on the Homosuperior tip. My childhood love had been replaced by apathy. But thanks to Remender and a stable of outstanding artists I've been digging into the X-Verse on a monthly basis. Thanks Rick! Thanks Artists!
AvX? Naw. Make mine Fantomex.
—-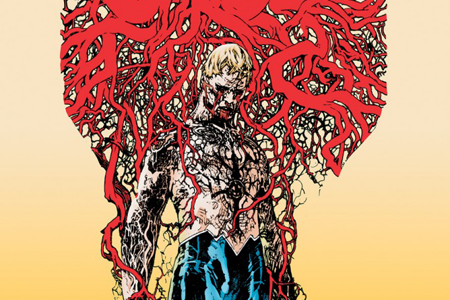 Animal Man TP
When DC shoehorned a relaunch into our gullets last year, one of the titles that achieved the thrust necessary to outrun the overblown Gnarly Hype Beast which ate story telling and shat out headlines was Animal Man. Like a true piece of shit who complains about marketing-driven storytelling and then  proceeds  to not read quality work, I fell behind on the Animal Man  relaunch. Now is the time of my Purgatory! The darkened Heavens have opened up, and their glistening gape has presented me with an opportunity for redemption.
The first collection of the Lemire/Foreman joint is out. If you haven't gotten on-board this swaggernaut, now is your time. No excuse is valid. All who err in this case shall be expunged. You can buy it for less than $10  on Amazon. Go. Redeem yourself, much as I have. Seldom are second chances made so easy.
—-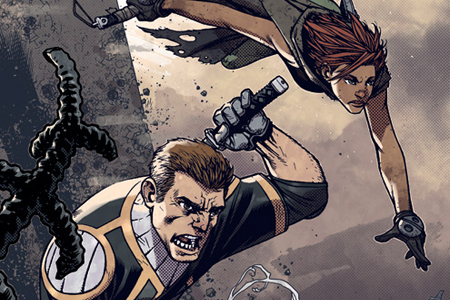 Higher Earth #1
This week is the week that the world shall be made known of Sam Humphries' awesomeness. I've been big on the lad for a bit now, but he's going to begin karate-kicking the shit out of doors blocking his ascent. We're talking serious kicks. Some blows straight out of  The Raid: Redemption. The ascension begins this week as Humphries rolls out  Higher Earth, a science-fiction extravaganza  that I've been told features  a "pilot-driven robot-bear by page 4". But that ain't all, kids! Did I mention this multiversal robot-bear rocking madness is also only $1? Speaking of the Multiverse, I can't fathom a dimension that doesn't contain a) you intelligently purchasing this title or b) me blasting you in the sternum with a priapism I built-up on a  Viagra-snorting Diet Dew binge for not doing so.
Buckle-up! We're not done yet. Humphries is also joining Johnny Hickman on  Ultimate Comics Ultimate Avengers Ultimate Time #10, before helming the title himself quite soon.
This is the week! Of prophesy. Or at least where I get two Sam Humphries titles.
—-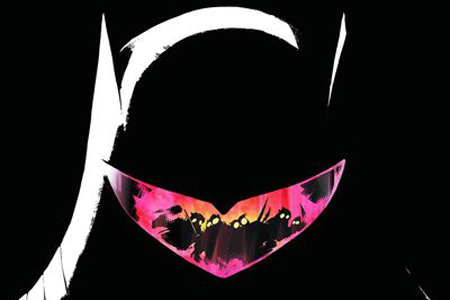 Batman #9
I'm constantly crying in my own beer about how much I like Scott Snyder's riff on the goddamn Batman. No one's as enthused as me! Fuck! That's fine. More copies of this fine title for me to purchase, as I fleck it with my own fluids and build a Batman-Golem. The trickiest part about the Golem is bringing it to life, but I believe I can leap this hurdle with an inordinate amount of electricity. Fringe scientists I have consulted indeed confirm that the Golem will…Jesus Christ what am I talking about? It's late, man. It's late. My aforementioned sweatpants get me feeling goofy, and the vibrating butt plug I'm rocking – it's purely  to loosen my chakras – makes everything feel good.
Uh, Batman. He's fighting the Court of Owls. It's fun. It's an Event. There we go.
—-
I didn't mention your favorite funny book? That's all good. Hit up the comments section with the comics you're snagging on the most glorious day of the week. (Discounting Sundays during football season, of course.)