Buy These F**king Comics – May 2, 2012: 1990s Reboot Makes My Boner Dance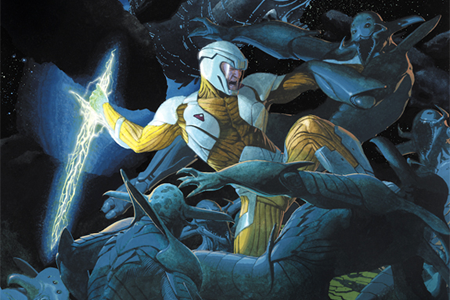 I just ate an entire Domino's deep dish pizza. I'm covered in crumbs. My asshole is already writhing in hate, preparing to shotgun out waste across a porcelain tomb. My girlfriend and I aren't seeing eye to eye on serious life issues. My bank account shrinks with the same rapidity my doughy ass'd waist expands. If this isn't the perfect time to escape through some funnies, I don't know when will be. Comic books, please deliver me from mortality, ideological stances, caloric repercussions, dependence on foreign oil, the problematic desire to respect women's issues and also rub seed on their butts, and other complicated things. Just fucking do it, okay?
This is Buy These Fucking Comics, the column where we chat about what you're procuring this week in the world of sequential art and female objectification. If I don't drop something you dig, for the love of Thanatos speak up. That's the entire point of this fucking enterprise.
Don't know what's coming out? Check right hurr.
—-
X-O Manowar #1
Valiant Comics is responsible for some of the wonderful shit-scabs that formed on the ureteral lining of the comic book industry back in the 1990s. Before I was a virile young adult, before I was an aged 29 year-old burping fabricated pasta sauce. They introduced zero issues and chromium covers. They did not last forever though, sinking to the bottom of us comic book geeks' collective unconscious. Since then, they've spent their time hanging out with jizzy-covered issues of Witchblade #1, pining for the old days. Pine no more, Valiant Comics. Like an infinite amount of superheroes, you are reborn.
The entire fucking shindig is getting underway with this first issue of X-O Manowar. This isn't some jabroni shit, either. The comic is being written by a New York Times bestseller, and being penciled by an Eisner award winner. They're playing with fucking power. It is coursing through their veins and shooting out their orifices. Lightning bolts, folks. Lightning bolts.
—-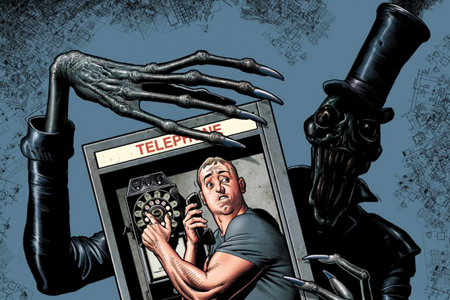 Dial "H" #1
Having tapped what was left of the goodwill coming out of New 52 and squeezed it, DC has turned their eyes towards Earth-2. They need new sustenance to feed their gaping gullets, demanding the juices of our excitable dollars. I'm actually sort of jazzed about the Earth-2 titles dropping this week in the form of…wait for it, Earth-2 and the superheroine powered World's Finest. However, I'm more stoked about Dial "H" #1 than either of them.
The premise is super-wonky. Imagine, if you will: a telephone booth that turns people into a different superhero every time that it is used. Yeah man! Pow! One time you have super strength. Another time your farts cure cancer. Then there's that one time the guy used it and it turned him into a dog whose serenades would cause trees to vomit jelly beans.
Pretty radical, no?
The title is being penned by darling science-fiction and fantasy author China Miéville. I have only read good things about Miéville throughout the years, but I have yet to enter into his textual worlds. That's mainly because I have too many other things I should be reading, and instead of even reading those I'm staring at animated gifs on Tumblr of asses shaking and dancing dogs. Welcome to the future! It isn't pretty but Jesus Christ the spectacle keeps us all entertained.
—-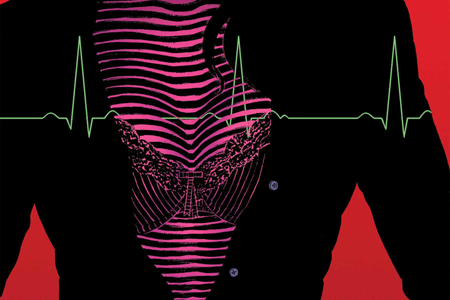 Daredevil #12
Chris Samnee joins the fucking Daredevil train! The world smiles at this fortune. Samnee held my heart a couple of years ago when he was the artist on the criminally underappreciated Thor: The Mighty Avenger. Did you read that title? If you didn't, just drop your pull list for the week. Right in the goddamn toilet. You're charged with fixing this ill. You can't do it just by buying the TPB. We're talking time travel. You will rehabilitate the time stream. You need the Vaseline — for breaching the Time Wall is scorching. You will need bottle caps — for they are the currency in the dimension I'm sending you to. You will need bravery — because you're probably going to fucking die on this journey.
Don't cry, you brought this upon yourself.
Should you not have the nerve, buy Daredevil tomorrow. Samnee is joining Mark Waid on what Marvel keeps reminding us is the "Super Greatest Best Funny Mag Reviewed Last Year!" Wee! Don't let my snark confuse you. This title is excellent.
—
Other Joints & Jams:
Miles Morales is kicking around this week in Ultimate Comics Spider-Man #10, which if anything will have you wondering how there are ten issues of this title already. Swamp Thing and Animal Man both are getting their ninth issues. Anyone still feeling both of these titles like gangbusters? I swore off ingesting Animal Man on the monthly tip. I'll snag the first collection next week and say a novena for my sins. If you're looking for Reheated War espionage and madness, Pigs #10 is dropping. And finally, should you truly hate yourself: Spawn #219 can be yours.
—
Those are my noticed installments. What are you guys and gals of the scribbled and dialogued page snagging?