Disgustingly Tan Mom Arrested For Taking 5 Year-Old Daughter To Tanning Salon.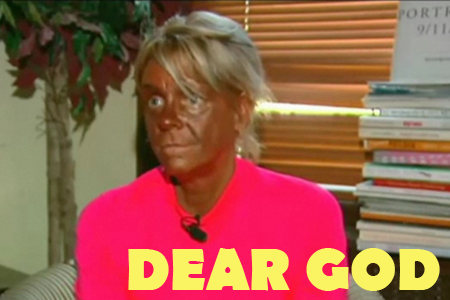 This is pretty gnarly stuff. A New Jersey Mom who looks like beef jerky shit out of an Oompa Loompa has been arrested for taking her 5 year-old to a tanning salon.
Tanning beds aren't the best thing on the world, and they're not supposed to be used like five year olds. What kind of mom would take her five year old daughter to a tanning salon? The kind of woman that thinks it's attractive to go around looking like she just escaped from an 1890s minstrel show.

A New Jersey woman was arrested after police said she brought her 5-year-old daughter into a tanning booth, causing the girl to suffer burns.  

But 44-year-old Patricia Krentcil, who was charged with second-degree child endangerment, said her daughter was never exposed to the tanning booth's UV rays and instead got slightly sunburned while playing outside on a warm day.  

The girl's father told NBC 4 New York his daughter told classmates at school that she "went tanning with Mommy." He thinks a teacher overheard, inaccurately connected the girl's sunburn to the tanning salon trip and contacted police.  

"This whole big thing happened, and everyone got involved," said Rich Krentcil. "It was 85 degrees outside, she got sunburned. That's it. That's all that happened."  

Patricia Krentcil said she treats her tanning salon trips as an errand in which she brings along her daughter, but insists the booth lights were never exposed to the girl.  

"It's like taking your daughter to go food shopping," she told NBC 4 New York at her Nutley, N.J. home after being released on $25,000 bail. "There's tons of moms that bring their children in."  

"I tan, she doesn't tan," she continued. "I'm in the booth, she's in the room. That's all there is to it."  

The incident happened over a week ago, but there did not appear to be any burns on the little girl Tuesday.  

Patricia Krentcil said she's been visiting her local salon for more than 10 years, and doesn't know why her visits there with her daughter, who has turned 6 since the incident, have suddenly been called into question.  
Who the fuck likes orange ass human beings anymore? There's this whole subculture I don't understand, which I suppose I should accept since I'm not exactly the opposite of esoteric myself. Still though, a 5 year-old? And burning her? Fuck that noise.