DC Relaunching EVERY Title With #1 In August, Same Day Digital Sales.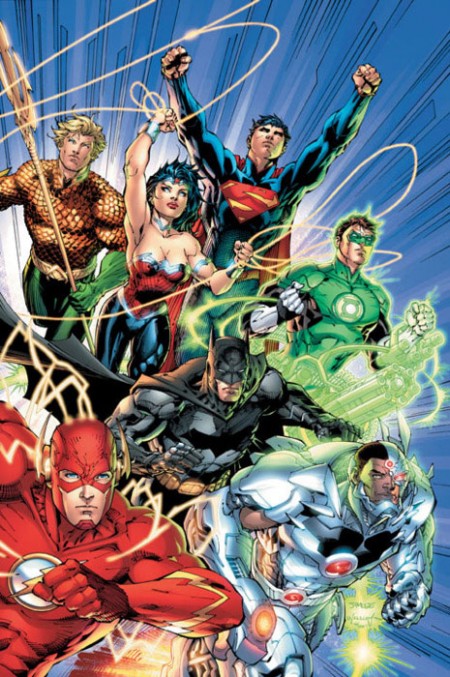 Woah, now this shit is colossal. DC is relaunching every title with a #1 starting on August 31, and also offer same-day digital sales. In addition, they're going to feature "younger" versions of all your favorite characters. Or something.
On Wednesday, August 31st, DC Comics will launch a historic renumbering of the entire DC Universe line of comic books with 52 first issues, including the release of JUSTICE LEAGUE by NEW YORK TIMES bestselling writer and DC Entertainment Chief Creative Officer Geoff Johns and bestselling artist and DC Comics Co-Publisher Jim Lee. The publication of JUSTICE LEAGUE issue 1 will launch day-and-date digital publishing for all these ongoing titles, making DC Comics the first of the two major American publishers to release all of its superhero comic book titles digitally the same day as in print.
This part is enormous Everything going digitally same-day is insane. Holy  death knell  for comic book stores, Batman! Well, for many. It won't stop people like Rendar or myself from collecting the physical copies, or participating in the ritual. This movement seems designed to get people to into comic books, and going same-day makes sense. Get the people into the App Store or whatever, away from the comic book stores. They're scary, if they're even around. The casuals. Will it work? No idea.
DC Comics will only publish two comic books on August 31st: the final issue of this summer's comic book mini-series FLASHPOINT and the first issue of JUSTICE LEAGUE by Johns and Lee, two of the most distinguished and popular contemporary comic book creators, who will be collaborating for the first time. Together they will offer a contemporary take on the origin of the comic book industry's premier superhero team.
That's a legit team! Goddamn, they must be serious. I'm very intrigued to see what they're offering as far as "contemporary" take on the tean. Also, isn't this what they were trying to do in those graphic novel stand-alones?
In September, more than 50 more first issues will debut, introducing readers to stories that are grounded in each character's specific legend but also reflect today's real-world themes and events. Lee spearheaded the redesign of more than 50 costumes to make characters more identifiable and accessible to comic fans new and old.

"We looked at what was going on in the marketplace and felt we really want to inject new life in our characters and line," says Dan DiDio, who co-publishes DC with Lee. "This was a chance to start, not at the beginning, but at a point where our characters are younger and the stories are being told for today's audience."
I'm not particularly cool with Lee helming the redesigns, though it's certainly a sexy marketing ploy. He's been irrelevant since forever, and his Wonder Woman redesign was awful.
Actually, I'm not particularly sold on the efficacy of the entire movement. Comic books are a closed-room affair, with fanboys and lore ruling the roost. This is an obvious endeavor to open it up to more people, but for how long? For Christ's Sake, everyone has been jacking off over the Superman movie for countless years. Kent hasn't been able to escape that defining moment since forever. The people will show-up, the sales may spike, but eventually the majority of them are going to fade away. It always happens this way. After that, the continuity that we – the fanboy legions – have come to masturbate over will bleed back in, the same mythos will once again rule.
This isn't me on the pulpit for not changing anything. I'm on the exact opposite, let's get some new blood afoot! I'd be happy with shaking things up. Reinterpretation characters. I just don't buy this bullshit. This is marketing driven hoopla that may grab some new fans, and the idea of same-day digital releases is dope, but in the end I doubt it works. All it'll end up doing is giving us some shitty new costumes, more confusing numbering, and a momentary highlight from the mainstream press.
Just my take on it, of course.
Thoughts?