REVIEW | Sucker Punch: Boner-Fueled Ambien Vomit.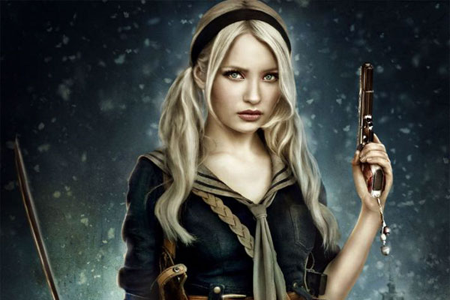 Sucker Punch: If a train wreck could have an abortion, and then that abortion was eaten, and vomited, and smeared onto celluloid.
We have reached the fucking vanishing point. The moment where what feels like every single fucking nerd trope we love has been sodomized, lobotomized, and left for dead. Sucker Punch is the runaway diarrhea train of disaster defecated on the brains of Geek America. I am a fat, unwashed, dork. With mouth-breathing tendencies, and extremely low expectations. I get hard at the sight of girls with swords, and can intellectualize my way out of feeling shitty for the obvious objectification inherent in women in skirts moaning as they labor. Even with that, Zack Snyder managed to nonsensically cobble together every single nerdboy's fantasies into a withering, quivering, fluid-covered disaster.
I am suddenly very, very worried for Superman. Maybe I should have been before.
The movie is a garbled mess of bullshit. It's like some underdeveloped asshole with pretentions of brilliance tried to tie together every single fucking awesome idea they ever had. Someone like me. The problem is that there's no coherence to any of it, and it reads like a fucking overcaffeinated asshole reading off everything that made them hard when they were young.
OH, I KNOW. FUCKING STEAMPUNK ZOMBIES. AND ROBOTS. AND CHICKS. PONY TAILS. FUCKING TRAINS. JUPITER! FUCKING JUPITER! OLD DUDES WITH RETARDED PHILOSOPHICAL BLATHERINGS. GUNS. MORE CHICKS. SLOW MOTION.
OH WAIT! A FUCKING FRAME NARRATIVE! THAT SHIT IS IN-DEPTH! IT'S SICK. A FUCKING FRAME NARRATIVE AND TITS. AND SNOW! SNOW WAS FUCKING AWESOME IN KILL BILL. AND FIGHTER PLANES. AND SAMURAI. WITH FUCKING GATLING GUNS. OH! AND WE SUBVERT OUR OBVIOUS EXPLOITATIVE AND OBJECTIFICATION OF WOMEN BY STATING WE'RE AWARE OF IT! IT'S FUCKING META. META-META! METAPHOR! I WANT FUCKING METAPHORS. AND PUSSY GRINDING DANCING.
The movie is an abomination. An awkward, uncomfortable disappointment to even an asshole like myself, who just wanted to see babes and glitz and karate chops. It is the cinematic equivalent of a thirteen year-old's ambien-fueled wet dreams. And yet! Somehow it manages to not be nearly as gratifying as any of the ambien experiences, or wet dreams that I've had.
The movie is outstanding in that it did the impossible. Watchmen,  Zack Snyder's last still-born piece of pop-puke had the honor of destroying OL's own Rendar. It pushed him damn near needing therapy, and I thought the wounds would never heal. But as we drove home tonight, he actually praised Watchmen in comparison to this movie.