Weekend Open Bar: The Super Covid Serum!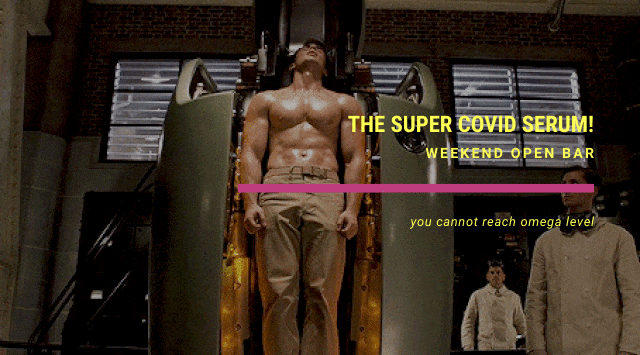 It's official, comrades. Members of the Space-Ship Omega. The COVID-19 vaccine is currently coursing through my veins. Building antibodies. Shuffling me towards a day when I may return to the movies, watch sports with friends, and attend concerts. Build, antibodies! Build! Swell up, teach my body how to karate-chop this fucking virus. Missile dropkick the son of a bitch! Get big, get strong, get ready for me. 'Cause Imma put your serum-ass to the test in three weeks or so.
Anyhoo — that's really the big development in my life this week. A development that's worth celebrating with you pricks here at the Open Bar! How shall we celebrate? Let's pull our nuts out, and rub them together so fiercely they start a strong, erotic fire! Or if they ain't your speed, let's just shoot the shit! What are you up to this weekend?
Watching Captains America? Going for a walk? Actually eagerly rubbing your balls against mine? Or labia, shit, I don't discriminate, whatever you got, we're all family here.
I wanna know! I wanna show! Let's hang out! This is Weekend Open Bar!