Keanu Reeves starring in movie adaptation of his comic 'BRZRKR' for Netflix! Anime series coming, too!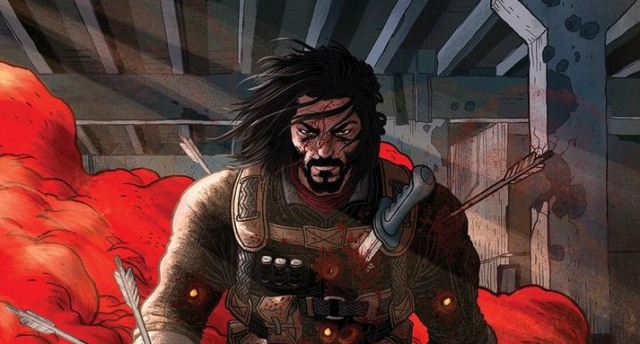 Well, this was inevitable, but it's still fucking awesome. Netflix is adapting Keanu Reeves's comic book BRZRKR into a live-action movie, and obviously the dude is starring. But wait, there's more! The comic is also getting an anime series on the streaming motherfucking giant!
Launched this year, Keanu Reeves co-wrote and co-created a comic series titled BRZRKR, notable for featuring a badass hero who looks a whole lot like, well, Keanu Reeves himself!

The hope was that BRZRKR would eventually be adapted for the screen, and that's precisely what is now happening. Variety reports this week that Reeves will star in a live-action feature film adaptation of the tale for Netflix, with an animated series also in the works. Reeves will be producing the anime series, and reportedly also voicing his character from the film.

BRZRKR is being described as a "brutally epic saga about an immortal warrior's 80,000 year fight through the ages. The man known only as 'B' (Reeves) is half-mortal and half-god, cursed and compelled to violence… even at the sacrifice of his sanity. But after wandering the earth for centuries, B may have finally found a refuge – working for the U.S. government to fight the battles too violent and too dangerous for anyone else. In exchange, B will be granted the one thing he desires – the truth about his endless blood-soaked existence…and how to end it."

Reeves is once again a hot commodity in Hollywood thanks to the increasingly successful John Wick franchise, and it looks like Netflix is hoping to capitalize with a whole universe of BRZRKR tales in the coming years. It's a smart move, as the property is absolutely ripe with potential for a kickass movie & TV franchise – especially with Reeves himself in the central role.

Published by BOOM! Studios, BRZRKR was written by Reeves and Matt Kindt.