Young female Twitter star turns out to be 50 year-old Japanese biker using deepfakes. The future is absolutely fucking wild.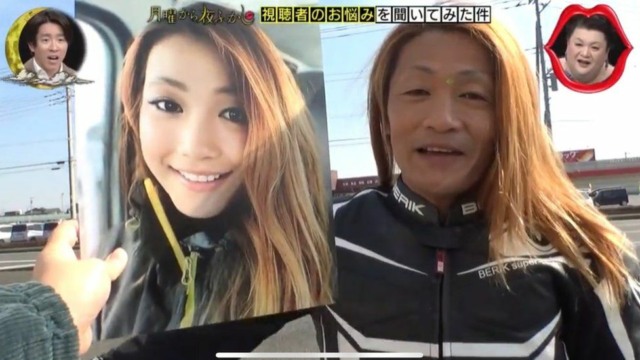 We're all living within a Billy Gibson novel, my dudes. A Young female Twitter has revealed herself to be a fucking 50 year-old Japanese biker. Man, just drink in that fucking sentence. Tremendous. Dude convinced everyone using deepfakes, and fucking hell do I love this.
Take Them For A Ride
You might want to double check that influencer you just followed on Twitter — they might actually be a deepfaked persona.

Or at least that was the case with Twitter user @azusagakuyuki, who tricked followers into thinking they were a young female motorbike enthusiast but actually turned out to be a 50-year-old Japanese man named Zonggu using deepfake technology, according to the BBC.

The man behind the Twitter account came clean to his deceptions on a Japanese TV show Monday Late Show, saying he used the FaceApp and other editing tools to create his female persona. Here's an image from the program of the fake Zonggu and the real Zonggu side by side:

From 10 To 1000 Likes
Zonggu explained to the show's producers that he was struggling to find an audience when he was posting as himself, reports the BBC.

ADVERTISEMENT
"No one will read what a normal middle-aged man, taking care of his motorcycle and taking pictures outside posts on his account," Zonggu said on the show.

That's when he turned to deepfake apps like FaceApp to alter his appearance.

"First I just tried, then it happened to turn out to be fairly pretty," he said on the program. "I get as many as 1,000 'likes' now, though it was usually below 10 before."

He added, "I got carried away as I tried to make it cuter."

Growing Influence
It doesn't look like the reveal negatively impacted Zonggu's following. At the time of his confession, he had around 19,000 followers on Twitter. That has since ballooned to more than 24,000 followers at the time of reporting this.

This is just another example of the fascinating and often bizarre applications of deepfake technology. While this man's prank was relatively harmless, the tech can have some truly frightening and dangerous implications — especially when put into the wrong hands.