Here's all the Marvel announcements from Thursday that also absolutely broke my balls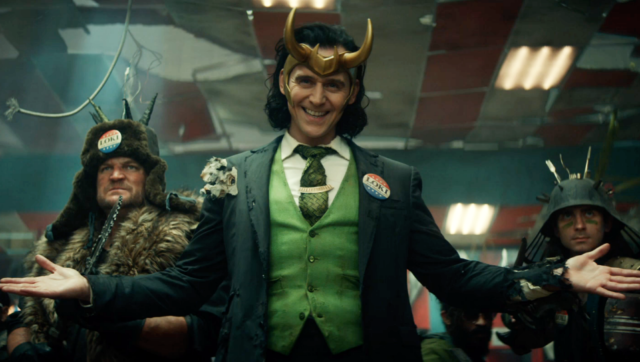 Listen, just like the Star Wars announcements, ain't fucking posting individually about each and every Marvel series on Thursday. That would also be completely fucking impossible. However, I will say that I'm fucking stoked for all of them. I'm a honk! A mark! But, if I had to choose? I'm losing my shit over Fantastic Four with Jon Watts, Hawkeye with Kate Bishop appearing, and Loki. My god, Loki looks awesome.
How about you? Take a look after the jump and let me know what you're sweating the most.
Marvel Phase 4 Announcements

Marvel Studios has 25 upcoming movies and TV shows coming in the next few years, and they just revealed a lot of details. Trailers, casting and brand new announcements, the plan for MCU Phase 4 and beyond has never been so clear – or as exciting.

2020 was a very strange year for Marvel. Due to the COVID-19 pandemic, there were no new releases – Black Widow, Eternals, WandaVision and The Falcon and the Winter Soldier were all pushed – and without a proper SDCC and canceled D23, nowhere for Kevin Feige to flaunt his wares. But just because there was little for audiences doesn't mean the House of Ideas hasn't been hard at work, continuing productions, developing advanced projects and getting things in position for a scale of releases that make Phases 1-3 look tiny. At Disney's 2021 Investors Call on December 10, Feige revealed it all.

There was a lot of Marvel Studios news that came quick and fast on the call, and is so seismic and plentiful that it's easy to miss it. To be on top of it all, here's a total overview of everything announced for all 25 upcoming Marvel movies and TV shows.

WandaVision Trailer 2 Reveals New Story Details

Sci-fi sitcom-riff WandaVision premieres on Disney+ in a little over a month, and following some era-teasing posters over the past week, Marvel dropped a new trailer. It's more revealing than the previous teaser, showing the return of the Mind Stone, a confused Monica Rambeau, the suggestion Wanda isn't responsible for this TV world.

A new poster was also released, showing Scarlet Witch and Vision in front of a range of TVs representation the decades explored by the show.

Doctor Strange 2 Casts Xochitl Gomez As America Chavez

Doctor Strange In The Multiverse of Madness will follow-on from the weirdness of WandaVision, bringing Scarlet Witch into a cast that includes returners Chiwetel Ejiofor as Mordo, Benedict Wong as Wong and Rachel McAdams as Christine Palmer. The big news was the casting of Xochitl Gomez As America Chavez. Another Young Avenger for Phase 4, Miss America is a superhero with the usual set of powers in addition to interdimensional travel, making her likely a key to the universe-hopping in Sam Raimi's film.

Spider-Man 3 Connects To Doctor Strange 2

There was little Spider-Man 3 news from Marvel as that movie is a Sony property (despite being produced by the Disney studio), but Feige did confirm that Doctor Strange 2 connects to Jon Watts' threequel. This not only confirmed reports of Benedict Cumberbatch's role in the movie, but also backs up the high speculation that this will be the live-action Spider-Verse. Alfred Molina and Jamie Foxx are back as Doctor Octopus from Raimi's trilogy and Electro from The Amazing Spider-Man 2 respectively, while Tobey Maguire, Andrew Garfield and Kirsten Dunst are all linked.

The Falcon And The Winter Soldier Trailer Reveals Flag-Smashers, Releases March 2021

After multiple delays, The Falcon and the Winter Soldier will finally release in March, hot on the heels of WandaVision. Marvel released a new trailer for the Captain America legacy-focused show, spotlighting Sam Wilson and Bucky Barnes' bickering chemistry, Daniel Bruhl's return as Zemo and introducing new villain Flag-Smasher.

Black Widow Is Going To Theaters

As it was meant to release over six months ago, Marvel brought little new Black Widow news. However, the talk did re-confirm that the movie will hit theaters exclusively in May 2021. After Mulan on Disney+ Premiere Access and Wonder Woman 1984 (followed by all of Warner Bros. 2021 slate) going to HBO Max day-and-date, there'd been a lot of speculation Natasha Romanoff's movie may bow on streaming. That isn't the case.

Loki Trailer Confirms Endgame's New Timeline And Lots More Weirdness, Releases May 2022

Also releasing in May 2021, Loki's TV show comes to Disney+. A new Loki trailer revealed a bevy of new details, confirming this series picks up from an alternate timeline made in Avengers: Endgame where Loki escaped Earth's Mightiest Heroes in 2012, only to be recruited by the time-traveling TVA. The "exclusive clip" shows Owen Wilson and Gugu Mbatha-Raw's characters and teases many other shadowy figures, but there's no sign of Richard E. Grant or Sophia Di Martino, rumored to be alt-versions of Loki. What it did do is hint at the revisionist plot, with it strongly suggested Loki was the notorious highjacker DB Cooper.

What If…? Trailer Teases Many Alternate MCUs

Marvel's What If…? is an animated anthology that will explore alternate versions of classic MCU events, viewed through the eyes of Uatu The Watcher (played by Jeffrey Wright). The new trailer gave a more substantial look at the unique art-style and many of the stories: Peggy becomes Captain Britain instead of Steve; Bucky fights a Zombie Cap; Doctor Strange fights a dark version of himself; T'Challa is taken by Yondu instead of Star-Lord.

Shang-Chi Cast Confirmed As Filming Wraps

Shang-Chi and the Ten Rings has finally wrapped shooting after a production heavily-impacted by the pandemic, and with that comes some details on the movie's cast. While many had been announced, their character names weren't known: Tony Leung is Wenwu (the real Mandarin), Awkwafina is Katy, Meng'er Zhang is Xialing, Michelle Yeoh is Jiang Nan, Ronny Chieng is Jon Jon, Fala Chen is Jiang Li, and Florian Munteanu is villain Razor Fist.

Ms. Marvel First Footage

Marvel confirmed Iman Vellani is playing Kamala Khan aka Ms. Marvel, the teenage Pakistani hero inspired by Carol Danvers. A short sizzle reel discussed the impact of the newer comic character, how Vellani was cast, touched on the show's creative talent, and featured some footage of Kalama both at home and idolizing Captain Marvel. What Ms. Marvel's live-action costume looks like has yet to be revealed.

Captain Marvel 2 Brings Back Ms. Marvel And Monica Rambeau

Nia DaCosta's Captain Marvel 2 brings back Brie Larson as Carol Danvers as previously reported, but she won't be alone. As expected, Ms. Marvel and Teyonah Parris as the adult Monica Rambeau (debuting in WandaVision) will be part of the sci-fi tale. The release date was also adjusted, pushed back from Summer 2021 to November.

Kate Bishop Official For Hakweye, Kazi & Echo Also Cast

It's Marvel's worst-kept secret: Hailee Steinfeld is Kate Bishop in the Hawkeye show. Her talks with Marvel were widely reported and set photos let the Pizza Dog out of the bag. But Feige also confirmed that Vera Farmiga as Kate's mother, Fra Free as Kazi and Alaqua Cox as Echo, with Rhys Thomas and Bert & Bertie directing. Absent from the announcement was Florence Pugh, whose Black Widow character Yelena Belova is reported to appear (this may be to avoid confirming her survival from the film).

She-Hulk Brings Back Mark Ruffalo's Bruce Banner And Tim Roth's Abomination

Tatiana Maslany's casting as Jennifer Walters aka She-Hulk was confirmed by Marvel, but the big news was that the legal drama will be bringing back Mark Ruffalo as Walter's cousin Bruce Banner and Tim Roth as Abomination, last seen all the way back in 2008's The Incredible Hulk. Kevin Feige also teased the possibility of other Marvel characters appearing in the show: given the legal setting, that feels like a pointed nod towards Daredevil, recently rumored to be reprised by Charlie Cox in Spider-Man 3.

Oscar Isaac As Moon Knight Wasn't Confirmed

It's less big news and more anti-news, but it was noteworthy that despite much-lauded reports that Oscar Isaac will be playing Marc Spector, Kevin Feige didn't confirm the actor's casting in Moon Knight. This may be due to contracts, more than a sign the actor isn't joining the MCU.

Secret Invasion TV Show Starring Nick Fury Announced

Ever since the Skrulls were introduced to the MCU in Captain Marvel, fans have been waiting for Secret Invasion – the comic story where the alien shapeshifters infiltrate Earth. That's finally happening on Disney+ with a Secret Invasion TV series, starring Samuel L. Jackson as Nick Fury and Ben Mendelson as Talos. Although plot details are light, Feige suggested it was a rogue pack of Skrulls, which makes sense given they were ultimately heroes in Captain Marvel. The show was further set up by Spider-Man: Far From Home's post-credits scene.

Ironheart TV Show Starring Dominique Thorne As Riri Williams

The first of two Iron Man pseudo-sequel shows, Ironheart will follow teenage genius Riri Williams as she becomes the inheritor to Tony Stark's armored crown. Dominique Thorne has already been cast as Riri, who was only introduced to Marvel Comics in 2015.

War Machine Leads Armor Wars TV Show

The other Iron Man series is Armor Wars, which stars Don Cheadle as James Rhodes aka War Machine. The description provided by Feige is that it explores "what happens when his tech falls into the wrong hands?", which can be said of many MCU stories.

The Guardians Of The Galaxy Holiday Special

After this year's The LEGO Star Wars Holiday Special, Marvel is getting in on the act. The Guardians of the Galaxy Holiday Special will be directed by James Gunn for Disney+ while filming Guardians of the Galaxy Vol. 3 and will release ahead of the threequel in Winter 2022.

Guardians Of The Galaxy 3 Gets 2023 Release Date

After repeated delays due to James Gunn's unjustified firing/rehiring and the pandemic, Guardians of the Galaxy 3 finally has a release window. The movie is set to release in 2023, likely Marvel's blockbuster May slot. That will be six years after Vol. 2 in 2017.

I Am Groot TV Show Brings Back Baby Groot

Another Guardians Disney+ release, this time a series of shorts, I Am Groot looks back to Vol. 2's Baby Groot and will see him in a series of misadventures.

Christian Bale Is Gorr The God Butcher In Thor: Love & Thunder

Former Batman Christian Bale will be joining the MCU in Thor: Love & Thunder, and it's now confirmed he's playing villain Gorr the God Butcher. The movie is already packed, with Chris Hemsworth's God of Thunder joined by the Guardians of the Galaxy, Valkyrie and Jane Foster's Mighty Thor, but if Taika Waitti is staying close to the comics, Gorr will be a big challenge nevertheless.