Weekend Open Bar: September.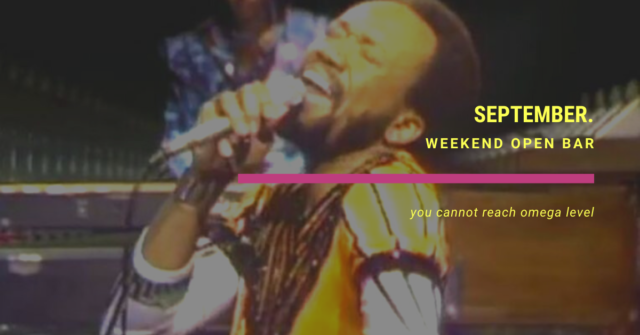 Hey, friends! It's September, and I hope you're all settling into the transitioning of seasons. As well, apologies for not penning columns as of late. Or, rather, typing. You know. Whatever the case, transmuting thoughts into symbols which make sense to you all. I'm just in a fucking funk, man. And when that shit happens, my expression-based faculties wither. Don't wanna do anything other than fall inwards! That said, I'm hoping to blast out the comic books column this weekend, and high-five you fuckers in here.
The source of the malaise? Asides from Dead Cells? I think it's emanating from a general sense of anxiety about teaching online, and the sadness that comes with it. Just not stoked, man. At all!
But, I suppose that's where you pricks come in. And of course, I mean that lovingly. Loving pricks. Loving you pricks. Eh, whatever. Let's spend the last weekend of the summer together, hanging out at this Open Bar! As the days grow shorter, and theoretically the air grows colder!
Tell me, the fuck you got planned over the next couple of days? You blessed to have a long weekend? You adventurous enough to go see Tenet? Grilling? Planting? I wanna know! I wanna hang out.
I hope you're well.
This is Weekend Open Bar!