Weekend Open Bar: Re-Animating The Relaxation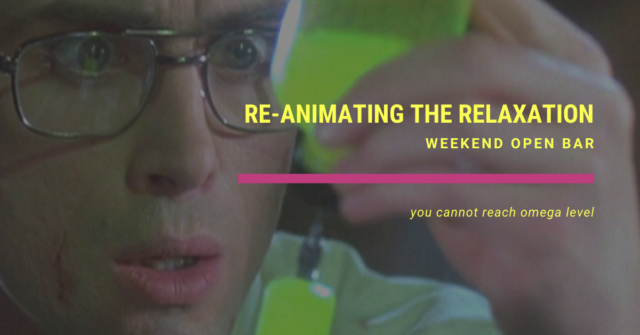 I have just enough to do during this summer quasi-break to be stoked for the weekends. Ya know? Just enough stress to compel me to look forward to Friday evening. Plus, you know. It's an opportunity to hang with my wife, and my husband, and eat a truckload of preposterously unhealthy food. As well, I get to spend some time with you motherfuckers. Here, at the Weekend Open Bar! The one-stop shop for buffoonery and camaraderie every weekend.
It's shaping up to be a good weekend for me. Weather setting the tone. The heat wave's finally breaking here, and good god, I can open my windows. Get some of that late-summer air wafting in. Reminding me that the descent into Autumn has thankfully begun, while being warm enough to not nip out. I must confess, it's one of my favorite times of the year. I hope you're appreciating it as much as me! If not, well, I hope you're at least tolerating it.
How is everyone doing, this first weekend full weekend of August? What is everyone doing, this first full weekend of August?
Let's hang out.
This is Weekend Open Bar.