Weekend Open Bar: Gather Ye Rosebuds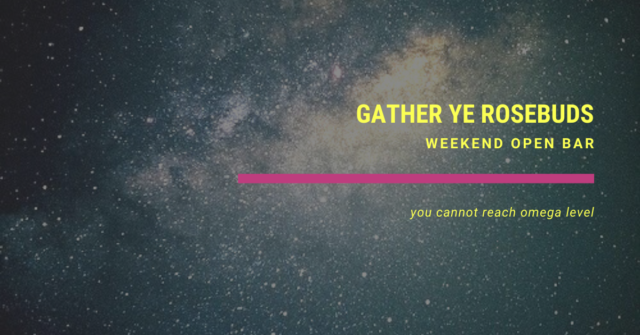 Gather ye rosebuds, motherfucker! 'Cause entropy is gonna grip and rip that ass, just like it's even gonna grip and rip the Universe's ass. Man, what a fucking awful introduction! I'm sorry. I'm sorry! However, I'm not sorry it's the fucking Weekend! Specifically, the last weekend before I begin teaching my summer course!
And! You know what that means, right? Fucking raging! Fucking raging so goddamn hard! Spitting blood into the wind, destroying my kidneys and synapses, and making all sorts of fucking mistakes! Prep the 911 call, make sure my wife has my last will and testament, and stay the fuck out of my way!
I'm, uh, obviously kidding. All it really means is the same as any other weekend. But, guess what! I generally love my fucking Weekends! As well, I like spending them with you wonderful fuckers!
So, pop on some sunscreen, pop off your tarp, and meet me in the observation deck on the Space-Ship Omega! It's time, motherfuckers! Time to spend the next couple of days shooting the shit. Sharing what movies we're watching, what books we're reading, and generally whatever the fuck we're up to.
Ain't no way I'd rather spend my last weekend of vacation, than with you!
This is Weekend Open Bar!