NASA picks Elon Musk's SpaceX, Jeff Bezos's Blue Origin to build lunar landers for manned moon mission. Privatize the Cosmos, baby!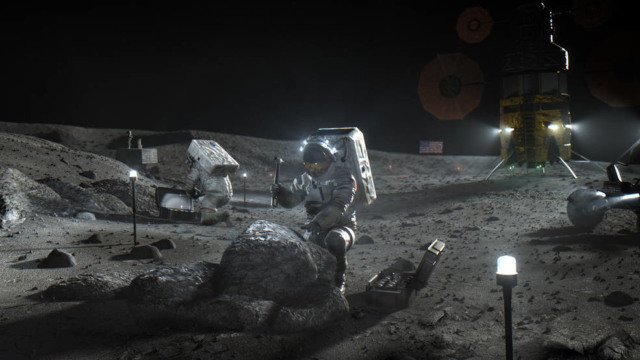 NASA has chosen SpaceX and Blue Origin to build motherfucking lunar landers for the next manned moon missions! Man, I'm torn. Elon Musk is such a fucking tool that it's hard to get stoked for SpaceX building lunar landers. Same goes for that fuck face Jeff Bezos. But, I gotta admit. New manned moon missions make my tits hard.
On Thursday, NASA announced that it has selected commercial space technology firms firms SpaceX, Blue Origin and Dynetics to build lunar landing systems that can carry astronauts to the moon by 2024.

Elon Musk is the founder of SpaceX, and Jeff Bezos is behind Blue Origin.

The manned lunar mission is part of the Trump White House's accelerated timeline for a NASA moon-to-Mars campaign.

"The three companies, which include firms of tech billionaires Elon Musk and Jeff Bezos, will share $967 million from NASA, though specific amounts each company will receive were not immediately known," reports Reuters.

Excerpt:

"This is the last piece that we need in order to get to the moon," NASA administrator Jim Bridenstine told reporters on Thursday, calling the agency's first lunar lander procurement since 1972 "historic".

Unlike the Apollo program that put astronauts on the moon nearly 50 years ago, NASA is gearing up for a long-term presence on Earth's satellite that the agency says will eventually enable humans to reach Mars, leaning heavily on private companies built around shared visions for space exploration.

Picking three providers allows NASA to have redundancy in case one company falls behind in development, Lisa Watson-Morgan, NASA's human landing system program manager, told reporters on Thursday.