Weekend Open Bar: Ooh, LA LA, (ah, oui oui)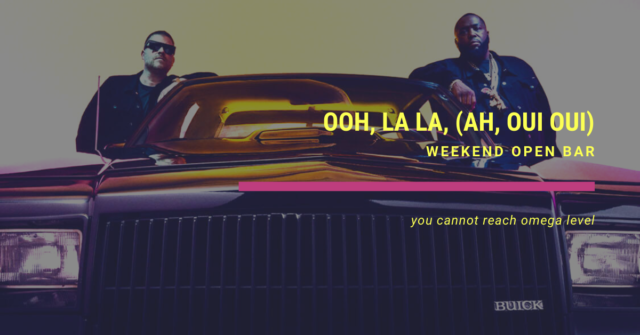 By god! It's the Weekend! But, what the fuck is the weekend during The Plague? A valid question, honestly. Maybe a lazy question, too. 'Cause despite working from home, I've been goddamn busy. So this weekend is going to be a nice respite from the hectic work schedule.
Get in a little gaming.
Smoke a little weed.
Hang with you fuckers on the stream.
A momentary siesta from our pandemic-powered cultural siesta. If that makes sense. Does that make sense? Does anything make sense? I'm not fucking certain anymore, you know? I imagine you don't know either, and there is solace in that.
None the less — pull up a chair. As close as you want, for this is all materially Immaterial. No risk of contagion.
Kick up your feet, I can't smell em anyways.
And spend your weekend with me here at the Open Bar! Tell me, what are you doing during this second weekend of the Great Shutdown? What are you reading? What are you playing? Perhaps as important, what are you fucking snacking on?
I'm looking for recommendations and good vibes, and I think you're capable of both.
You beautiful fuckers.