Monday Morning Commute: Demons Begone!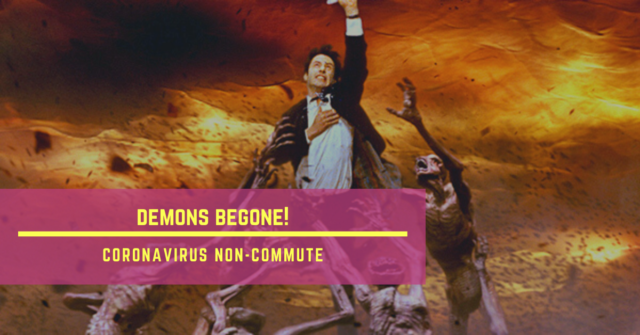 Great glorious fuck, I don't think I've ever been so happy to be working. But, today I returned to teaching from Spring Break. And granted, I'm pretty fucking depressed that it's virtual. At the same time, though, I feel as though I had purpose for the first time in weeks.
You know, like healthy purpose.
Not the sort of purpose that just has you existentially laying in the fetal position (last week). Or, eating two pints of Ben & Jerry's ice cream, because fuck it (last night).
It was nice to teach, to sniff the jockstrap of normalcy. Granted, maybe I just like sniffing jockstraps. Who knows. Maybe I will know, lord knows I have enough time to interrogate all potential fetishes right now.
I mean, don't get me wrong. I'm still deeply fucking worried about the trajectory of Things. We got people debating whether or not Biden's latest 2:00 minute video is a deep fake. Straight PKD shit. We got a president championing malaria medicine as cures. Meanwhile, a motherfucking pandemic is just absolutely blasting us across the tits.
So, yeah. Don't get me wrong.
That said, I'm glad to have a healthy outlet for my mental energy this week.
And on top of that, I have the usual assemblage of foci to call upon! Wondering exactly what the fuck those are this week? Why, brother, you're in the right place.
After all, this is Monday Morning Commute! The one-stop shop for all the bullshit I'm emotionally masturbating to this week, in order to avoid the Big Scary Unknown breathing down my neck. And yours!
I'll go first, join me in the comments, ya fucks.
—-
Been listening to a lot of fucking synthwave lately. You know that! I know that! But, this week I'd like to recommend Waveshaper's EP, Solar Drifter. It's a perfect mixture of completely fucking chill and bouncey. You can get high and veg out to it, or you can (get high) and shake your ass to it. Momma mia! What a fucking combination! Call the authorites! Is this shit even allowed? Of course it is, it's the fucking apocalypse!
—-
View this post on Instagram

Joe Rogan and I used to bro out like so hard. Then, he had a pretty solid run of platforming assholes and failing to really interrogate them, for, you know, being assholes. I've been coming around on him again lately, and this rekindling was in no small part due to his interviews with Cornel West and Bernie Sanders. However, regardless, fuck, this clip is the absolute best.
As I described to it friends, "Bags and me trying to fix the coronavirus situation."
—-
Listen, we all knew I was going to get DOOM ETERNAL, right? Anything otherwise indicated by me was pointless posturing. Like when I push the box of Chez-Its five feet away, stunting like I'm not going to crush the entire thing.  Posturing! Pointless posturing. And such was the same with DOOM ETERNAL. I played the first mission last night, after finally driving away my malaise enough to try and enjoy something.
It's rad. As expected.
—-
Speaking of games, all I really ever want to do these days is hang out with Bags and play Dead Cells. Specifically with him, but fuck, do I ever itch for that title. I can't recall a game that has absolutely blasted my ass continuously like Dead Cells, and yet I can't get enough. But, hey, ass blastings can be fantastic, if done right. To follow through this lousy metaphor, I suppose Dead Cells is rough, but man does it ever hit the prostate.
Speaking of which, stay tuned for another midweek stream!
—-
What have I been doing with my time, thus far? You know, I'm not really fucking sure. Pluto asked me today, and I had to really take a step back. Lazily planning for virtual class? Yes. Reading too much /r/coronavirus? Yes. But, I realized something: I've been working out like a fucking maniac. If it weren't for my insane junk food addiction, I think I could actually come out of this pandemic ripped. My dedication isn't a good thing, though. It's deflection. Avoidance. Too much working out. But it gives me them good-good endorphins, which at least serve as a temporary salve.
—-
Anyways, that's it for me, friends! Working out. Ripping and tearing demons. Bouncing my ass to synthwave, obviously high, maybe sniffing a jockstrap. Who knows. Who cares. It's a pandemic.
What are you up to this week? I want to hang out.