Weekend Open Bar: Hoth by any other name!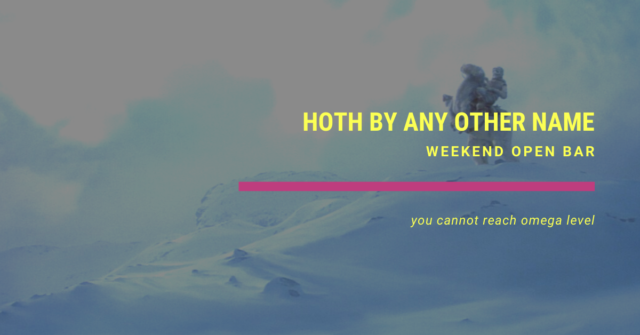 Mother. Fucking. Yes! It's the Weekend, friends! Kick off your pants, pick up your preferred drink, and get your ass around the hearth! This is the latest edition of the Open Bar! And man, it feels good to be here. Why? Cause, it's the last fucking Weekend of the semester, baby! As well, it's been a long, dark, cold, snow-filled week!
So, I want to hang with you motherfuckers!
What are you up to this weekend? Staying in, hiding from the barren wasteland on the East Coast? Going out, catching Knives Out or Dark Waters? Hiding in the 7-Eleven bathroom and sniffing the toilet seats after patrons leave?
I want to know! I want to chat.
This is Weekend Open Bar!