'The Mandalorian' gets official poster ahead of its D23 panel today. Give me this show in my fucking veins!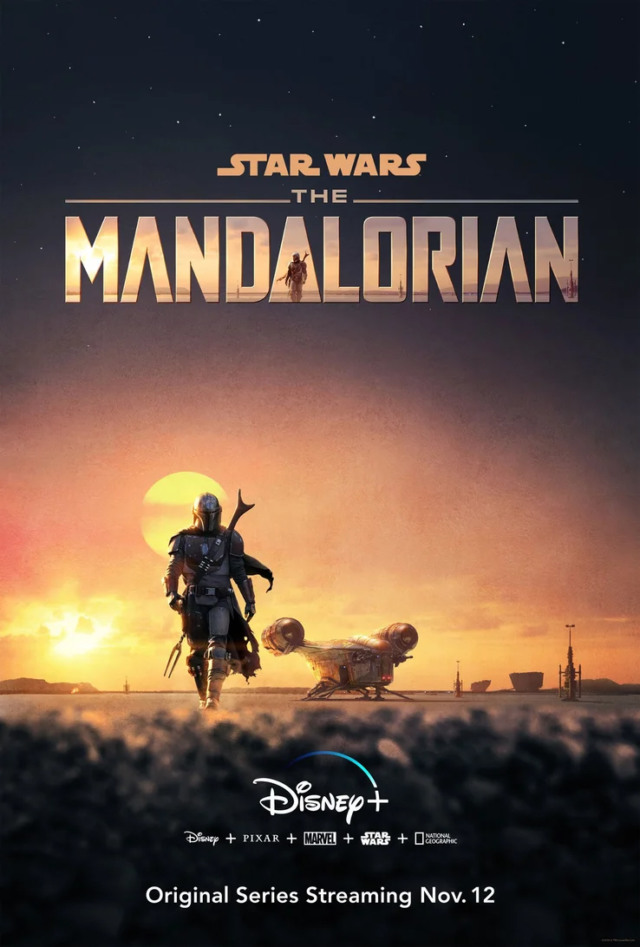 We got ourselves a trailer for The Mandalorian coming today. Figgity-fuck yeah! (?) And if you know the trailer is going to draw the cream from your balls, then this poster is a good bit of foreplay.
Over the course of this weekend, you can expect to see much more from upcoming Star Wars TV series The Mandalorian thanks to Disney's D23 expo. A trailer for the first ever live-action TV drama set in the galaxy far, far away is confirmed to be on the way shortly, but before that a brand new poster has dropped – with a striking design offering a tantalising new glimpse of the show's titular gunslinger against a gorgeous binary sunset.

The Mandalorian
The show, coming to Disney's new streaming service Disney+, is created by Iron Man director Jon Favreau, and stars Pedro Pascal in the lead role as "a lone gunfighter in the outer reaches of the galaxy far from the authority of the New Republic". It's set in the aftermath of Episode VI: Return of The Jedi following the fall of the Empire, and will dig further into the ground-level, wild west-inspired corners of the universe. In a recent interview with The Hollywood Reporter, Favreau said: "I'm trying to evoke the aesthetics of not just the original trilogy. Not just the first film, but the first act of the first film. What was it like on Tatooine? What was going on in that cantina? That has fascinated me since I was a child, and I love the idea of the darker, freakier side of Star Wars, the Mad Max aspect of Star Wars."

The show is also produced by Dave Filoni, veteran of the Star Wars animated TV series, as well as Kathleen Kennedy and Colin Wilson. Favreau has directed episodes, alongside the likes of Taika Waititi, Bryce Dallas Howard, Rick Famuyiwa, and Deborah Chow.

The Mandalorian is coming to Disney's streaming service on 12 November – but the UK launch date for Disney+ hasn't yet been confirmed. Stay tuned for more information about the show – and that much-anticipated trailer – as D23 continues, and expect new information about Star Wars: Episode IX – The Rise Of Skywalker too.