Disney reveals plans for Marvel-themed park called "Avengers Campus" so we can all be adult children forever, great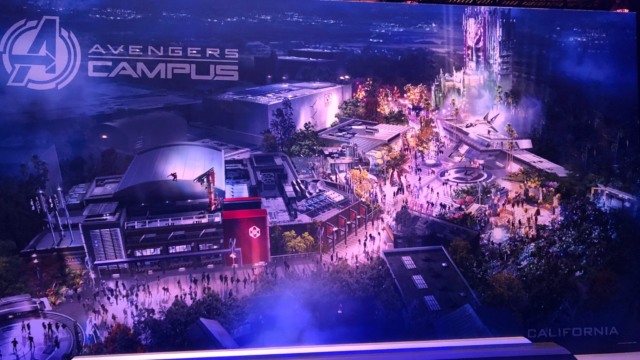 I'm torn. On one hand, I really want to go to Avengers Campus. On the other hand? All this jerking off to Marvel and other pop culture has me feeling like we're stuck in some sort of permanent adolescence. Eh, whatever. The Amazon is burning, you've never been closer to death. Go have fun.
Disney has announced that the newest, Marvel-themed addition to its theme parks is titled Avengers Campus. The land will open in phases at Disney California Adventure and Disneyland Paris, beginning in 2020.

Announced on the eve of Disney's D23 Expo, the company gave the following statement about the park in a blog post: "When guests visit Avengers Campus, they will become part of an interconnected, global story that spans from California to Paris to Hong Kong with the Avengers recruiting new extraordinary people to join them."

An artistic rendering of the new Marvel land at Disney California Adventures imagines vehicles, superheroes, and high-tech sites converging around the Guardians of the Galaxy tower attraction.
Concept art of Avengers Campus Courtesy of Disney Parks
The announcement came with concept art and context as to the impetus for the Marvel-themed land's creation (other than, uh, money).

"The idea is that Tony Stark has come to the D23 Expo to showcase the Global Avengers Initiative, which is the Avengers Campus in Disneyland California and the campus in Disneyland Paris, as well as his partnerships with the Worldwide Engineering Brigade and Pym Technologies," Caroline May, Creative Director at Walt Disney Imagineering, said in a tour of the expo's Parks Pavillon.

While the name is new, the parks themselves have been on the radar since early 2018. Anchored by the already-running Guardians of the Galaxy — Mission: Breakout! that replaced the Tower of Terror, Avengers Campus will also incorporate a Spider-Man themed ride-through attraction titled Tony Stark's Worldwide Engineering Brigade. The new area of the park will occupy the space previously filled by A Bug's Land.

More Disney Parks details are expected to come out of D23 this weekend, so stay tune for potential further Avengers Campus updates.