First Look: The Speeder Bike from 'The Mandalorian' got that old time feels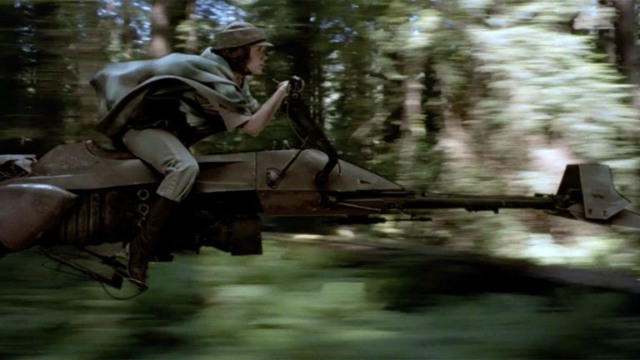 Well! The Mandalorian is going to feature a speeder bike! Not much to go off of, but it continues my excitement for this show. Hit the jump to check it out!
Star Wars Celebration is currently underway in Chicago, and we'll be bringing you plenty of coverage from the biggest panels over the next few days. But in the meantime, /Film's weekend editor Ethan Anderton is on the ground checking out the show floor and just sent over some photos of a brand new speeder bike from The Mandalorian, the first live-action Star Wars TV series. We're expecting to learn more about the show this weekend, but you can take a closer look at this new prop below and see how it compares to other speeder bikes from a galaxy far, far away.

Next to this screen-used prop, there's a sign that reads:

On the rugged frontier worlds of the galaxy, vehicles like speeder bikes endure harsh elements and are overworked with little down-time for maintenance. This Mobquet Zephyr-J model has had most of its unneeded bells and whistles stripped off to be functional above all else.