'Hawkeye' series starring Jeremy Renner heading to Disney+ and will feature him passing the bow to Kate Bishop!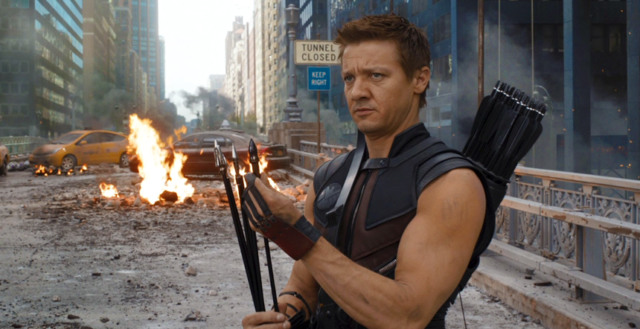 Hawkeye! Kinda cool! Jeremy Renner! Kinda eh! A series about him passing the torch to Kate Bishop? Kinda cool! Kinda eh! I don't care for Renner, but I do like the character of Kate Bisbop. So, maybe it'll turn out decent.
Jeremy Renner's Hawkeye apparently isn't done with the Marvel Cinematic Universe after Avengers: Endgame, as the character is reportedly going to headline his very own series on Disney+.

According to Variety, the series will be an adventure story in which Clint passes the torch (or bow, as it were) to Kate Bishop, his predecessor/protege in the comics.

Hawkeye, of course, is just the latest in a line of MCU characters slated to receive a series on Disney+. Other projects centered on Sam Wilson/Falcon and Bucky Barnes/Winter Soldier, Wanda Maximoff/Scarlet Witch and Vision, and Loki have also been announced and/or reported.

When reached by Variety, Marvel and Disney declined to comment on the Hawkeye series.

In the meantime, Renner's Hawkeye will soon appear on the big screen once again in Avengers: Endgame. Directed by Anthony and Joe Russo, Endgame also stars Robert Downey Jr., Chris Evans, Mark Ruffalo, Chris Hemsworth, Scarlett Johansson, Don Cheadle, Paul Rudd, Brie Larson, Karen Gillan, Danai Gurira, Benedict Wong, Jon Favreau and Bradley Cooper, with Gwyneth Paltrow and Josh Brolin. The film arrives April 26.