Monday Morning Commute: four and three and two and one!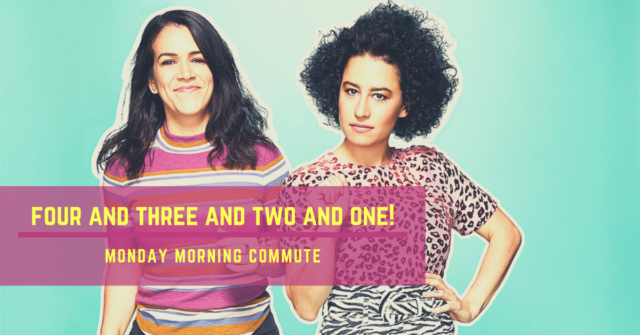 Hey! It's Monday Morning Commute, on a Tuesday! Again! Man, truthfully? There ain't much going on in my life right now. Just the humming doldrums of the post-Holiday, pre-Spring existence here in the Northeast. It's cold! That's whack. It's getting lighter out earlier and earlier! That's dope.
And the forthcoming notables?
They're the various spectacles and testicles-tickling activities helping me make it through the ashen week.
I hope you'll join me in the comments section, and let me know what you're looking forward to this week. To be honest, I'm in a bit of a rut. So, I could use anything you can suggest. Hit me. Hit me!
—-
Really enjoyed the season premiere of Broad City's final season.
—-
I can't get enough Dead Cells, my friends. Dying never felt so fucking good.
—-
Local Sports Team has made the Super Bowl for the third straight year. Fucking blessed as a sports fan in this town.
—-
Still playing Warframe with a friend. My god, I wish I found this game years earlier.
—-
Okay, okay. Everyone during our Twitch stream and the various reviews coming out have convinced me: I'm going to see Lego Movie 2 (I know it's not until next week).
—-
Whenever I get blue these days — and I will admit that's fucking often — I pop on some Plini. Dude just manages to cheer me up. Every time.
—-
I said that I was going to start Ancillary Sword last week. I lied. I lied right to your face. I'm starting it this week, I swear. It's the second installment of the Ancillary trilogy. And while I've obviously only read the first title, I can tell you it was glorious science-fiction.
—-
I fucking bought Resident Evil 2, despite still being knee-deep in Red Red Redemption 2. I have no fucking willpower. I blame Bateman and Jerkface, though. They both egged me on.
—-
Watched Teen Wolf for the first time last weekend. My word, what was in the air in the 1980s. Actually, I know. Copious amounts of cocaine and deregulation. Like, a dude turns into a werewolf and no one bats an eye. Every man wants to be him, every woman wants to sleep with him.
Wild.
—-
There you have it, my friends. My notations of notables. What are you indulging in this week?