China has grown the FIRST PLANTS on the MOON, yo!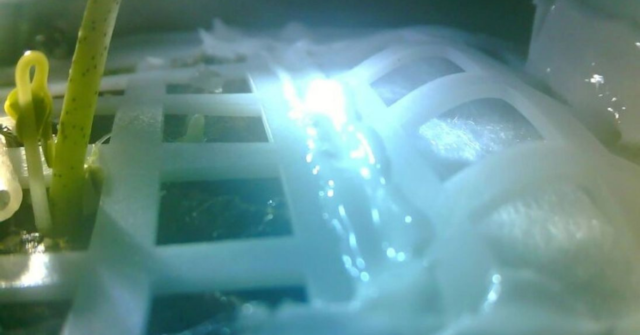 China out here doing dope shit on the moon, folks. Not only were they first to land on the far side of the moon, but now they're straight-up growing plants there.
A plant has sprouted on the moon in a Chinese probe, marking the first time a plant has grown on the lunar surface, according to an image and statements released the China National Space Administration (CNSA) on Tuesday.

The image appears to show cotton shoots successfully growing within an airtight canister aboard China's Chang'e 4 lunar lander, which touched down on the far side of the moon on January 3. The plant is part of the mission's "moon surface micro-ecological circle" experiment, which also includes rapeseed, potato, arabidopsis, yeast and fruit flies.

Chinese professor Liu Hanlong, head of the experiment, announced on Tuesday that the cotton seeds were the first to sprout, and also that rapeseed and potato seeds had sprouted and were growing well as of Saturday.

It's an experiment designed to test how humans might someday grow food on lunar bases, a necessity for any long-term settlement. "We have given consideration to future survival in space. Learning about these plants' growth in a low-gravity environment would allow us to lay the foundation for our future establishment of space base," Hanlong told the South China Morning Post.

The micro-ecological circle in the experiment was carefully designed to withstand the harsh conditions of the moon, with the six organisms behaving synergistically as "producers, consumers and decomposers": The plants produce the oxygen and food, sustaining the fruit flies. Meanwhile, the yeast decomposes waste from the flies and dead plants, creating more food for the insects.

The experiment shows that astronauts on future missions would likely be able to grow potatoes for food, cotton for clothing and rapeseed for oil.

It's not the first time a plant has been grown in space. Astronauts aboard the International Space Station have successfully grown lettuce, zinnia, rice, onions, peas, cabbage, sunflower and cucumbers. What's more, a panel of algae positioned outside of the space station managed to survive some 530 days, withstanding the vacuum and temperatures ranging from –68 to 116.96 degrees Fahrenheit during the day and night, respectively.