J.J. Abrams says 'Episode IX' has a script and will begin filming in July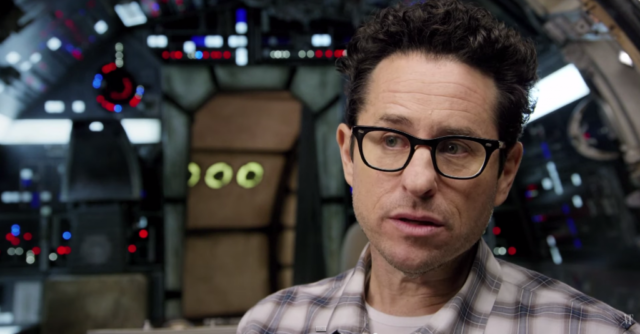 J.J. Abrams got himself a fucking Herculean task with Episode IX. He needs to appease those Star Wars fans who hated Episode VIII. He needs to acknowledge the criticisms of his own Episode VII. One of the major stars of the movie passed away, sending the entire original script(s) into Hell. And not only that, but he has to wrap-up a saga in just one film following a movie that pretty much kicked over the entire fucking sandbox.
But! At least he has a script.
We may have only just finished watching The Last Jedi, but Disney is already putting all of its might behind the likes of Solo: A Star Wars Story and Abrams' upcoming Episode IX. Concluding the third Skywalker trilogy, Abrams will return to directorial duties following 2015's The Force Awakens.

Appearing Wednesday on The Late Show with Stephen Colbert, Abrams was asked about his success with Star Wars and when there would be news on his next installment.

"We have a script, which is a big deal for me," he replied. "It starts shooting end of July. Having a script in advance is something I haven't always been lucky enough to have. I'm writing this with Chris Terrio, who is a genius, and I'm having a great time."

Although Rian Jonhson was behind the camera forthe divisive The Last Jedi, Abrams remained as a producer to help see the characters move into the sequel. Now, he will helm the climactic battle between the First Order and the Resistance that he began in 2015. Of course, Abrams wasn't always intended to return to sci-fi saga, but instead took over as director when Colin Trevorrow parted ways with Lucasfilm. In addition to helming the film, Abrams has also worked with Terrio on the script.

Given that the Cloverfield and Star Trek director helped to create characters like Rey and Finn, there is great fan service in his return to round out their stories.

After the reveal in Star Wars: The Last Jedi that Rey is the "last" Jedi, the dramatic sacrifice of Luke Skywalker and the continuing legacy of Carrie Fisher's Princess Leia, Abrams has plenty of leftover plot threads to bring into Episode IX. Considering that the movie has undergone something of a complete overhaul following the tragic death of Fisher — given that Leia was meant to play a major role in Episode IX — it is positive news that the rewrites are on track for the movie's release date. However, shifting from its proposed May premiere, we will have to wait until Dec. 20, 2019 to see where Abrams is taking us next.

The next installment in the blockbuster franchise arrives May 25 with director Ron Howard's Solo: A Star Wars Story, which stars Alden Ehrenreich as Han Solo, Donald Glover as Lando Calrissian, Emilia Clarke as Qi'ra, Joonas Suotamo as Chewbacca, Thandie Newton as Val, Phoebe Waller-Bridge L3-37, Paul Bettany as Dryden Vos and Woody Harrelson as Tobias Beckett.