Denis Villeneuve still interested in directing a 'Bond' movie. I can't even fucking handle the thought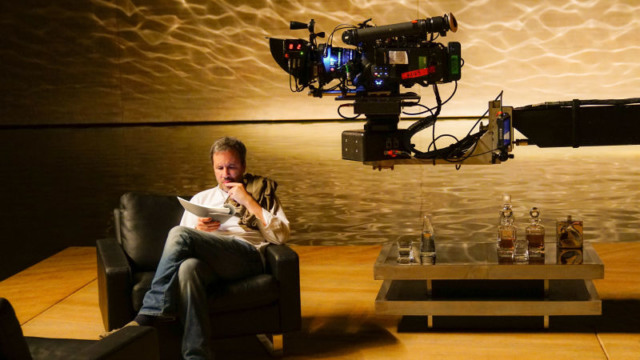 Denis Villeneuve is still interested in directing a Bond flick and my balls can't even handle the thought. Admittedly, it can't be Bond 25 due to his upcoming Dune adaptation. But, that doesn't matter. Bond 26, Bond 39. Just make it happen.
You see, I've been sweating Villeneuve for a good goddamn bit now. I mean, pretty much since Prisoners. However, man. It's tough to difficult to describe how hard he rocked my geek prostate with Blade Runner 2049.
Back in July, we reported that the short list of James Bond 25 directors included Denis Villeneuve (Sicario, Arrival), Yann Demange ('71), and David Mackenzie (Hell or High Water), and any of them would make an exciting choice for Bond's latest adventure.

Speaking to The Playlist, Villeneuve says he's interested in Bond and working with Daniel Craig, but his new adaptation of Frank Herbert's Dune is what takes priority:

"The thing is I don't now about that, but listen," Villeneuve says. "Daniel Craig is a very inspiring actor and I had some contact and the thing is that I'm busy right now doing 'Dune.' But, I will say to have the privilege to work with him it would be a dream. I would love to work with Daniel and a Bond movie for me would be a treat. It's a matter of timing, I guess."

The next James Bond film is due out November 8, 2019. With Craig's schedule and other directing candidates possibly available, I seriously doubt EON would push back the release date just to wait for Villeneuve. More likely than not, they'll let Villeneuve go and maybe circle back to him for future installment (that's one of the nice things about the Bond franchise—it will never end).

While you could make the argument that there's enough time for Villeneuve to make two movies in two years (and he has had a pretty speedy pace coming out with five films in the last four years), but both Dune and Bond require a fairly large canvas with Dune existing as epic sci-fi and Bond needing time to plan out extensive set pieces.